10 Great Ideas on How to Spend Christmas with the Seniors

It's Christmas time once again! We know you are quite busy figuring your holiday needs. So, here are great Christmas ideas for your family. Being with our senior parents is definitely not a chore but a happy moment to look forward to. Whether its Christmas or New Year, let's make each second count these holidays.
1. Merry Go Round Your Community
Malls, organizations and some other groups always have events during the holidays. Start looking for something that would be of great interest for the whole family and the seniors. Christmas lighting, firework shows, Nativity plays or parades are just a few.
2. Be a Present!
Presents or presence? Being around counts more than a wonderful gift. Of course, gifts are still to be cherished! But spending more time with your family to play, cook, read a book, watch a movie or even just chat is the gift of opportunity this season. We're sure you have lots of activities in mind, aside from the other fun suggestions below!
3. Carol with a Purpose
It's wonderful when you see the choir sing carols for you. But wouldn't it be fun when you do the caroling together with your family? First, choose the best songs you can sing or memorize. Then choose a family, a friend, a caregiver or another grandma or grandpa to sing a carol to. Add a basket of goods to bring more tears. Oh, we mean more love into your carol songs.
4. Discover your Great-grandparents
Get on FamilySearch.org and work on getting to know those great-greats! Let grandma and grandpa be this holiday's stars. Have them retell the stories of their great-grandparents, too. Make an audio recording and a journal of the accounts they make. Family history brings a lot of great memories. Sometimes, even answers to some questions you might have been looking for.
5. Wreath Making is Worth It
Wreath making is always fun to do. If you've got a 7-year-old or younger, have them work this out with their grandparents and see what they can make. Whether they turn out to be a wreck or we mean a beautiful wreath, make sure to put them on display.
6. Oh My Our Gingerbread House
Food plus great time equals a wonderful holiday. Get those edible glitters, glue, and buttons. Then together with your homemade cookies or toast, come up with a house design. Don't forget to get a pre, during and post photo shoot and see if it turns out to be a gingerbread house!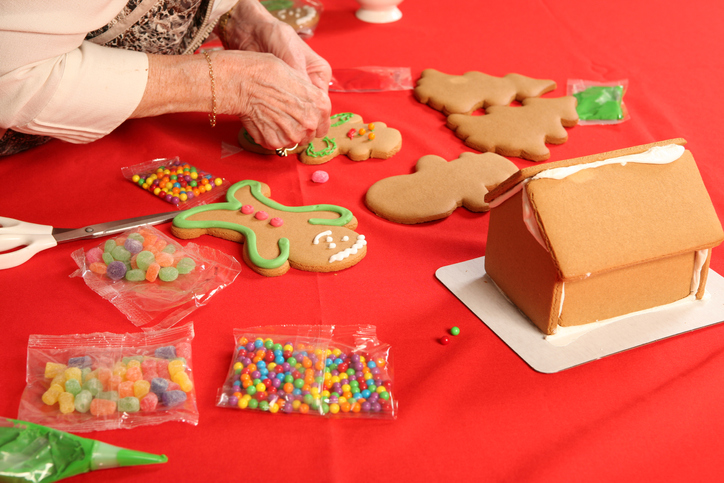 7. Do-It-Our-Own Gifts
You can do this together with your family or with your patient if you're working in a retirement home. Get simple but colorful materials and set them in a table with glue, ribbons, and items best for the holidays. Assign each one a partner and have them make the gift on the spot. Have them describe what they want basing it from the materials on the table. If not, try other gift ideas best for seniors.
8. Play Against Santa, Remember the Naughty Ones
If you always remember that grumpy security guard or snob nurse at the nursing home, then it's the season to be nice. Together with your family, list those who've been doing their job but haven't been really "nice" to you, or your granny. Think of best gifts to make or buy them. Then drop by to say hello and have the seniors hand over the gifts. Unless you want to play secret Santa?
9. Eat, Stroll, and Be Merry!
If you're in a place where you won't freeze outside the holidays, then grab that advantage. Decide where you guys could take a walk or make a short drive for a view. Enjoy the Christmas decors in your community block or fresh air in the park. Tag everyone along and plan a place to eat or set a picnic. It's time to be merry indeed!
10. Oh, It's Bingo!
Did you know that playing bingo could enhance the listening and memory skills of the seniors? Try this game with your kids, too. If you're in a nursing home, make sure to get everyone involved – the caregivers, the nurses, everyone! Come up with a basket of prizes or a treat to those who win.
Lastly, "What do my parents need?"
Look for things that you can do while you visit your senior parents. If they live separately, check if there's any trouble in the car, fixing in the house or as simple as unopened mails and emails. If you're visiting, make sure to spend time on them. Your parent's personal grooming might need a holiday treat to the salon. You'd be amazed at how they're surviving the holiday season.