10 Ways Your Family Can Celebrate Easter with Elderly Parents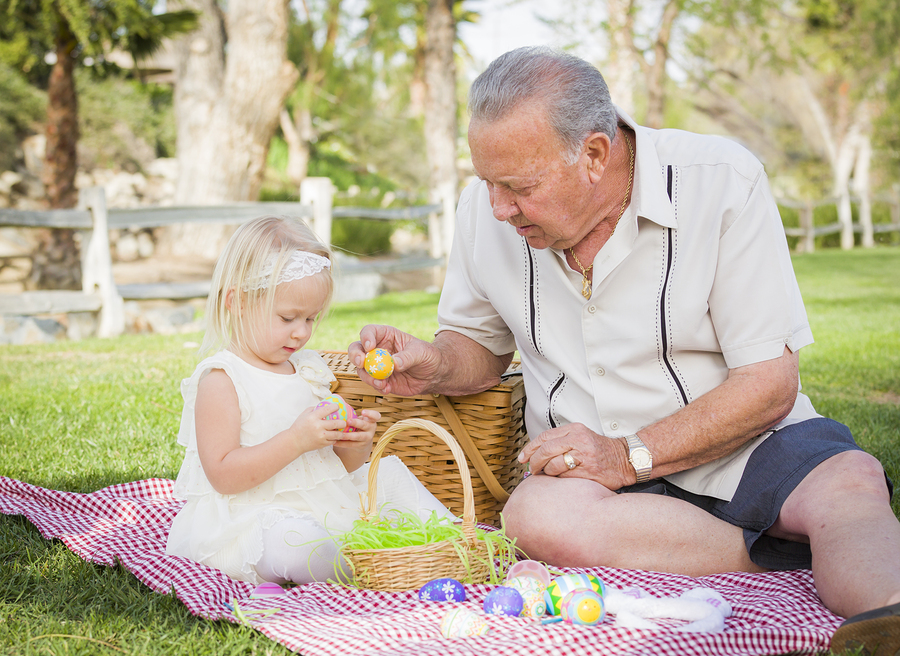 While Easter is a traditional Christian holiday that celebrates the resurrection of Jesus, this occasion is not confined to one's religion. A lot of families who are not religious or Christians celebrate Easter in unique and memorable ways, such as Easter Egg Hunts and family Easter dinners. And although Easter is often associated with activities for children, there are many ways to make Easter celebrations fun for senior family members as well. Here are ten ways a family can celebrate Easter that everyone including elderly parents will enjoy.
DIY Chocolate Easter Eggs
Instead of buying Easter eggs, why not make it? It would be a fun activity for the kids and the older members of the family alike. There are a lot of easy chocolate Easter egg recipes you can get online, you can choose to print them out or watch them on your tablet or laptop as you make the eggs. Savor the aroma of chocolate as you prepare the eggs and enjoy this bonding moment.
Easter Egg Hunt
What's Easter without an egg hunt? Whether you use hard-boiled eggs or plastic ones, add more fun by attaching prizes or consequences to those who will be finding them. You can assign a specific area for kids to hunt and another one for the seniors.
Decorate Eggs
Get everyone to be a little bit artistic and crafty with this activity. You can use actual eggs or cut out ones and color them with whatever coloring material you have, such as crayons, markers, watercolor, or poster paint. You may also want to embellish your eggs with glitter, sequins, or stickers. Make it a bit more exciting with a contest of who finishes first or who has the best design. You can also define a theme for this activity.
Visit the Zoo
Easter comes the same time as spring, the perfect time of the year to go out and enjoy nature and the company of animals. Why stop at bunnies when you can see so much more at the zoo? If you live in Toronto, the Toronto Zoo is holding its Easter Weekend from the 25th to the 28th of March which features their newest addition – four playful male white lion cubs, a female polar bear cub, Canada's first giant panda cubs, and a male Indian rhino calf.
Make Easter Cards for the Seniors
Without the knowledge of your senior loved ones, have your children make Easter cards for them and write sweet messages on the cards. You can draw or print out an outline of an Easter egg, basket, or bunny to guide the kids as they cut the cards. If the kids are too small to cut the cards themselves, be the one to cut the cards and then hand them crayons and markers for the message.
Surprise Them with Easter Baskets
Instead of sweets, fill a basket with their favorite things. If they happen to love a certain book or author, get them a copy of that book and buy other items that relate to theme of the book. For dog lovers, you can frame a photo of their pet and add pet treats and accessories in the basket. Think of what they love, what makes them smile and collect items to put in their basket.
Watch Old Family Videos
Go through the items stored in the attic or basement and look for old videos from your childhood and watch these with the whole family. If you have videos of your parents' too, this would be great. This is a great way to show the younger generation how you grew up and how their grandparents looked like when they were much younger, and for your senior loved ones to reminisce the good old days.
Pin the Tail On the Rabbit
Here's a game that's as old as the Easter egg hunt but never fails to keep everyone happy. You can draw a bunny or download the form for this game. What's great about Pin the Tail on the Rabbit is, it can be played by anyone regardless of age. You can take turns by ascending or descending age, or you may want to draw a number from a hat or cup.
Go Out on a Picnic
Get out and enjoy the sunlight and fresh air. Preparing the food for the picnic alone is a great bonding activity. You may want to make a kite, too. It would also be a good idea to have a gadget-free picnic so everyone is able to appreciate this family time and actually be in the moment. Have a list of outdoor games ready so the kids are preoccupied while the elders enjoy watching them.
Go to Church Together
This might not apply to all. For Christians, Easter Sunday celebrates the resurrection of Jesus Christ and going to church together on this occasion is one good way to share a spiritual moment with the whole family.
Whichever way you choose to spend Easter, the one important thing is to spend it with love and happiness. Make it fun and thoughtful, so you and everyone in the family, especially your seniors, will be able to cherish this moment for the rest of their lives.