5 Things You Can Do To Make Your Elderly Loved One Feel Special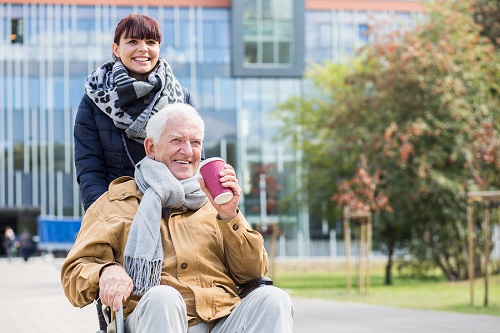 Taking some time off from your usual busy schedule to visit an elderly loved one can be very difficult, some of us don't even have the time for ourselves! But it is important that we do check our monthly calendar and set aside a weekend or two every month to visit our elderly loved ones. Our presence, more than anything, is valuable to them.
Here are a few things you can do during your visit to the senior home to make it memorable for you and your elderly loved one:
Reminisce with Them
Remembering all the happy times you spent together is a wonderful way to show your love to your senior. You can bring an old family photo album and show it to your elder, to look back at everything that they have done for you. You may also just talk about the special occasions that hold a warm place in your heart, like the first time you went to the zoo or when you were taught how to ride the bike. It could be more recent occasions, such as your wedding day or the first time they visited your newborn baby.
This simple exercise of looking back at the good old days and telling them how much having them with you on those special moments means to you are precious, intangible gifts that will not only tell them how important they are in your life, but will also give them a reason to smile. It is essential that the elders are shown their importance, since it is common for them to feel depressed during the latter part of their years. Your words and memories will give them a reason to feel good and be happy for days to come.
Cook Their Favorite Dish
If your elderly mother, father, or grandparent loves to eat, this is the best way to show them how much you care. Cook their favorite dish, or order from their favorite restaurant. If your senior loved one is fond of cooking and is known for a specific dish, pay them a tribute by cooking this dish for them and bringing it for everyone to enjoy during your visit to the retirement home. If the facility will permit, you might also want to cook it with them during your visit and make this activity a great bonding moment for you and your senior!
Give Them the Gift of Touch
Not even the sweetest words can compare to a loving touch. A gentle hug and kiss on the forehead can make them feel your love and care without you having to utter a single word. If they are aching, give them a gentle massage to make them feel better. Remember how good it felt when your senior parent would caress you when you were still young whenever you were sick? Now is the time for you to do the same for them.
Feed Their Senses with Beautiful Things
Think about the things that your elderly loved one is fond of. Do they love music? Did they use to frequent the art museum? A rose, a bouquet of tulips, a small potted plant, a bottle of their favorite scent of perfume, a watercolor painting, a CD of their favorite song artists, an iPod loaded with their favorite music, or a framed family portrait – these are all wonderful things that would appeal to their senses and uplift their spirits. It does not have to be expensive, what matters is the thoughtfulness and love that come with it. Make it something very personal to them. If your senior loves to crochet, a basket full of colorful yarns will be worth so much more than a Picasso painting.
Enjoy the Moment with Them
Sometimes, we forget to enjoy the moment we have with our elderly loved ones as we try to squeeze this duty into our busy schedules. It becomes an errand that some of us just want to get done and over with. If this is your current routine, take some time to reflect on the value of your visits to the retirement home and reconsider changing your game plan.
Instead of regarding your visits as a duty or errand, think of it as another 'me' time for you, like going to the salon, spa, or to your favorite coffee shop for some quiet time with a good book. Whenever you visit, you are not just going there to check on the welfare of your loved one, you are also there to reconnect with them and feel their love. Remember that it is not a one-way street, you are not there for charity work; you are there for a loving moment with your senior loved one. Hug them, tell them how much you love them, share what's happening in your life, ask for advice – treat them with extra care but never forget that they are still your parents/grandparents.
Not everyone is blessed with another day in their lives; a lot of people struggle to get to live longer. See each day that you get to spend with your elderly loved one as a blessing and make them feel how much you love them every time you can.