7 Steps to Choosing the Right Retirement Home for You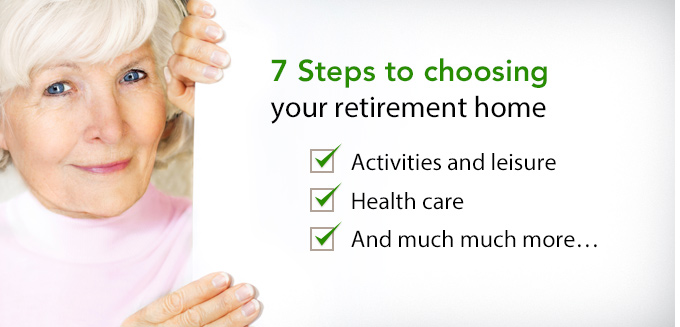 7 Steps to Choosing the Right Retirement Home for You
Activities and leisure
Health care
And much much more…
Step 1: Establishing your budget
Establishing a budget will provide you with an approximate maximum amount that you are able to pay for monthly fees and living expenses. Simply add your net revenue and subtract from that sum all expenses, with the exception of rent (this should include items such as telephone, TV, clothes, recreational activities and medication expenses).
The resulting amount represents the maximum budge that you are able to spend on senior housing. Keep in mind that you may have forgotten some expenses, and your living situation may change in the future, so it's important to allow some leeway for unexpected expenses.
Step 2: Defining your needs
Before starting to look for a retirement home, set time aside to clearly define your needs. Once you have a list of necessary criteria, it will be easier to determine which senior housing facility best fits your needs.
This is a list of services and accommodations offered in various retirement homes. It will assist you in determining your ideal environment. You may print the list and check the items that suit your needs and expectations.
Step 3: Finding retirement homes with Live your retirement
Our search site contains an extensive list of Quebec retirement homes for independent seniors. We invite you to search by geographic location and discover the retirement homes in your neighborhood. Searching on the internet enables you collect a wealth of information and allows you to visit only the retirement homes that are most likely to meet your needs.
Step 4: Preparing your visits
Before you begin your site visits, make a list of the information that you would like to obtain from each assisted living facility. Refer to Step 2 to help you identify some of the most pertinent questions to ask.
The following 10 questions are essential and must be on your list:
How much is the monthly fee?
What does this monthly fee include (electricity, telephone, cable, meals, care, etc.)?
Is medical assistance available 24 hours a day, 7 days a week?
What professionals are available at the retirement home: physicians, nurses, practical nurses, beneficiary attendants, etc.?
What is the average age of the residents?
What is the policy in case of loss of autonomy or death?
Does the retirement home have a certificate of conformity delivered by the Québec health and social services agencies (HSSA)?
Are the residents happy in the retirement home? Don't hesitate to approach current residents and ask them questions directly.
What is your first impression? Can you see yourself living in an environment such as this? Do you feel at ease?
Is the retirement home clean? It is well maintained?
Get information on open houses
We suggest that you peruse the open houses posted on our site or send an online request to inquire about open house dates. Open houses are an excellent opportunity to visit housing sites and talk with the people who live and work there. It allows you to meet with the residents, allowing you the opportunity to get honest answers to some of your most burning questions.
Step 5: Visiting the retirement homes and making a selection
Whenever possible, when making your visits, try to be accompanied by someone you trust. This will allow you to compare your impressions afterward. It is highly likely that you will not have seen or remembered the same details and it can be a relief to be able to "debrief" after each visit with someone whose opinions you value.
Remember that it's important not to rush when you're on site visits. Instead, take time to ask all you questions, eat in the dining room to evaluate the food and service, and mingle with current residents to ask their opinions.
Finally, remember to avoid making any written or verbal agreements unless you are sure of your choice. A verbal agreement counts in the eyes of the law!
Make your choice
Once the visits are concluded, take some time to compare the retirement homes and their services. Ask yourself: "In which environment would I (or my loved one) be most likely to succeed?" You have now completed all steps and are ready to make your choice!
Step 6: Signing the lease
At the time of signing the lease, be sure that you are provided with the following information:
The list of services included in the monthly fee
Information concerning health services, the cost and the potential agreement with the CLSC in order to get the services for free
The rules and regulations of the retirement home (for example, the rules with regards to smoking, pets, code of ethics, complaints procedure, etc.)
The procedure with regards to tax credit
The conditions relating to the termination of the lease
You have the right to ask for this information if it wasn't provided to you. We suggest that you take some time to read the documents and make sure that you are in agreement with their rules and regulations.
Take your time before signing the lease
Avoid feeling pressured into signing a lease before you feel entirely ready. Take whatever time you need to read it, think it over, and discuss it with family members.
Keep in mind that you have the right to negotiate clauses of the contract or add your requirements. Once your requirements have been stated in writing in the lease, along with dates (in the case of repairs for example), the owner has no other choices but to comply. However, if not in writing, there is no guarantee that the owner will keep his promise. Remember that once the lease has been signed, you can't go back in time so it's important to make sure that the contract reflects your wishes before signing on the dotted line.
In short, we recommend that you sign the lease when and only when you have no more questions and are satisfied with all clauses of the contract.
Step 7: Moving in
Before you embark on this adventure, we recommend that you make sure of the following:
Is there enough room in your new environment for your furniture and appliances? You may use a floor plan to organize your space.
How will you dispose of your extra furniture? You can offer them to family members and friends, or to the Salvation Army, the Saint-Vincent-de-Paul Society or United Way, for example. If you cannot find a furniture recovery organization in your area, you can always call the large waste items collection service.
Do you have purchases to make? Fees to pay to disconnect and hook-up services (cable, telephone, electricity)? If you are living in an apartment, do you need to have your current lease terminated?
It might be useful to make a list of what you will or will not take with you, things to do before you move, etc. A list will help you see more clearly.
Does the retirement home offer moving assistance? If not, don't hesitate to pay for professional movers to prevent unnecessary issues. The retirement home can certainly recommend a company.
Make sure that you, the retirement home and the movers agree on the date and time of the move.
Here are some tips on how to label your boxes: write the content on each of them as well as the room in which they should be moved. This will prevent you having to move them once the movers are gone. And finally, remember to write FRAGILE if that is the case.