9 Healthy Habits for Seniors
"Good habits formed at youth make all the difference."  Aristotle is right! And we need to keep that up even when we reach old age.
What are healthy habits? The first thing that comes to mind would be exercising and some muscle stretching activities. But mind-stimulating activities can be made fun for our seniors. Researchers have shown that mind-stimulating activities can improve senior living. These activities work best for those who have Alzheimer's, too.
Keep in mind though that as we age, some habits we once love may no longer be interesting now. Try and discover which of these good habits work with our grandparents, our senior companions or those seniors we spend time with. Build it with them so they can turn them to regular hobbies.
1. Cook and Bake
Yes, cooking and baking is fun indeed! Baking allows one to find creativity in their work through decorating and molding. If your senior companion once was a good cook, allow him or her to teach you their specialty. You may be amazed by how well they remember their techniques and secret ingredients.
2. Arts and Craft
This habit seems to be one of the common activities most lady seniors do. They love to cut and craft different things or even make complex designs. Whether it takes them a few minutes to a few hours, allow your seniors to bring out their creativity.
If this is new to them, ask what kind of craft or art would they like to start with. Give them each a try to a few of their choice and see where they excel. A few seniors today even have kind acts of giving things they craft.
3. Read A Book or Study Again
Reading for some is a good pleasure. The power of imagination works best for those who read and write. For some, reading is like traveling. It allows them to envision different things as they read about them.
Today, some seniors return to school. Learning has no end and not only are the seniors rejuvenated, but they also learn new skills. To some, they meet new young friends and find a meaningful way to spend time. Some government like Quebec offer different programs of education to seniors.
4. Music and Dancing
Dancing? Though movement for some seniors is limited, like everybody else, we can appreciate music and dancing even if we don't have those talents.
To volunteers who continue to visit to sing and dance for them, continue doing so. Not only do they feel good about it but it greatly helps with their health. Music has a powerful way to some. It can help them remember their youth and may even help with memory recovery.
5. Care for a Plant
If our seniors can't appreciate art, music or baking. Maybe they have a green thumb. Caring for a plant or having a small garden for your grandparent or senior companion is one great habit. Not only does it let them move but it also gives them a feeling of responsibility.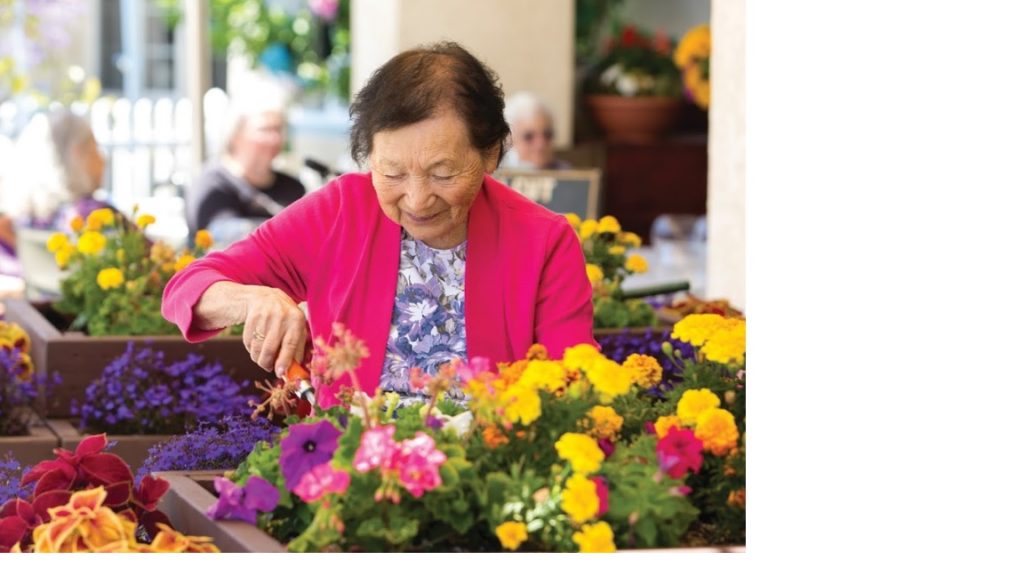 6. Watch Family Videos and Albums
If the past is something your seniors love, this will be a good habit for them. If you have videos and photo albums that need labeling or identifying, ask for their help. Give them the opportunity to remember and tell the stories that come with those photos. There might be some funny and great memories you haven't found out yet.
7. Play Board Games and Puzzles
If Bingo stimulates our senior's brain, then so do some board games and puzzles. Not only are these best for the seniors but for all ages. Puzzles have the capacity to re-ignite some parts of our brain that may have stayed dull for a long while.
8. Watch or Do some Science Education Activities
Do you think you're updated with science? Share this with your seniors. Not only would they love to hear about it but they could share their equal enthusiasm. That cool online video of new discoveries doesn't only work for your kid. Your 6-year old daughter and your 66-year old senior could be awed for new scientific discoveries.
Don't assume that being old means being knowledgeable. Things recently discovered or documented and filmed are something interesting for them, too.
9. Walk or Exercise
Yes, nothing beats physical activities in keeping our seniors healthy. It's a good habit to walk with them in the morning or the evening. Taichi and some forms of yoga could work best with them, too. Never underestimate the capacity of a senior. You'd be amazed at how they'd love to move around.
Boredom has proven to be one of the causes of getting a higher chance of heart problem. So whether we are young and old, we need to develop good habits to keep our mind working and our brains active.
Oh and just a few reminders here, too. Don't forget to take breaks between these activities with your seniors. Keep in mind to help your seniors build a good healthy habit that they are interested with. Continue to support them as they learn new things or keep doing their old good habits. And of course don't forget, to exercise with them!