Advance Care Planning for Seniors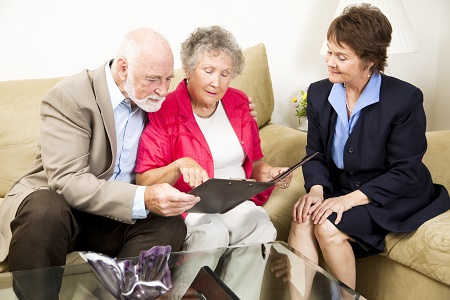 A 2013 Harris/Decima poll reveals that about six in ten Canadians believe that it is important to discuss their end-of-life care preferences with someone, but only 45% have done so. Another fact that was pointed out was, Canadians with an advance care plan are more engaged in the health care system, with 90% of them having a family physician or regular place of care.
It is apparent from this survey that advance care planning is an essential process for seniors, and I personally believe that this is important to help our elderly loved ones take control of their future health care and treatment in the event that they are no longer capable of communicating their wishes.
Advance care planning involves learning about the different types of decisions that seniors might need to make, letting their loved ones know about their preferences, and documenting these in an advance directive.
An advance directive is a legal document that becomes effective only when a person has become incapacitated as a result of a disease or severe injury and unable to speak for himself or herself.  It also allows them to express their values and desires related to end-of-life care. An advance directive may be considered as a living document — one that you can update as your health situation changes.
Planning for your future and documenting your medical preferences enables you to continue to be in control in matters regarding your medical care, even if you have become too sick to speak for yourself. You gain peace of mind in knowing that you will be given the medical treatment you want. Your family and friends will also be relieved of the burden of having to make decisions in a highly stressful situation without knowing your choices.
Discussing about one's advance care planning may be difficult and emotionally charged, but I believe that this is very crucial in avoiding any future conflict and takes the burden off the family. To be effective, advance care planning needs to be comprehensive, involving your family and friends, your proxy, as well as your providers.
Below are four things that can help in your advance care planning discussion:
Your Values and Beliefs. Openly communicate your personal values, spiritual beliefs, and views about life.
Your Preferences. Although most people may not be comfortable talking about how they wish to face death and/or disability, thinking about similar situations of other family or friends can help.
Health Care Proxy. Decide who to appoint as your health care proxy decision-maker. Choose someone who is able to make decisions based on your values and beliefs about care, even if these would involve denying you of life-sustaining treatments.
Professional Help. Several professionals can assist you in creating your advance directives and help ensure that your wishes will be respected. Aside from lawyers, social workers, and members of the clergy, counselors and social workers are qualified professionals who can provide guidance during your advance care planning process.
A living will and a medical power of attorney needs to be completed once you are done discussing your advance care plan. It is recommended that these documents are prepared with the help of a lawyer to make sure that these documents are in accordance to specific laws and regulations.
Give copies of these documents to family members, friends, health care proxy, the physician's office, and/or lawyer and make sure that these are kept in places that are easily accessible. Your family and other important people in your life need to understand everything that is included in these documents. Review your plans every once in a while and revise if anything changes in your health conditions.