Art Therapy Can Make Positive Changes in the Lives of Seniors with Alzheimer's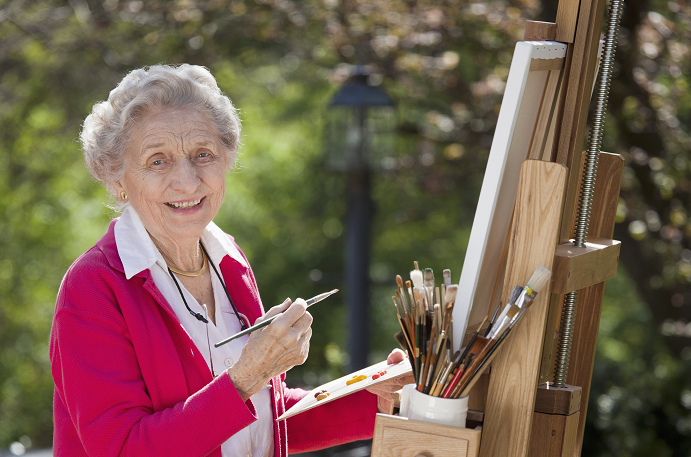 Alzheimer's is the most common type of dementia that causes problems with memory, thinking, and behavior. Typical symptoms include depression, apathy, and difficulty remembering recent conversations, names, or events. Later symptoms include impaired communication, poor judgment, disorientation, confusion, behavior changes and difficulty speaking, swallowing and walking. Usually, its symptoms develop gradually and get worse over time, interfering with daily tasks.
Art as Therapy for Alzheimer's
A 1999 research conducted by Brighton University discovered that art therapy provides significant improvements for Alzheimer's sufferers who took part in a ten-week course. Although seniors with Alzheimer's disease slowly lose their ability to express themselves using words, they can create art as the other parts of the brain that deal with colors and composition can still be used and developed.
Dr. Arnold Bresky is a "preventive gerontologist" from Woodland Hills. He has been using art therapy in working with Alzheimer's and dementia patients and claims a 70% success rate in improving their memories. Bresky's program is called "Brain Tune Up" and its multi-disciplinary approach also incorporates music. Bresky believes that by drawing and painting, seniors with Alzheimer's are able to exercise their brains and this helps turn back the clock on their memory loss.
Art therapy is not just about creating art; viewing art also has a therapeutic effect on Alzheimer's patients. Generally, individuals who have dementia develop what doctors call the "four A's of Alzheimer's", which tend to fade when they look at pieces of art, also giving them a calming effect. Art helps them gain back their "emotional memory", enabling them to relate to people and places in their past.
Benefits of Art Therapy for Seniors with Alzheimer's
There are several benefits associated with art therapy, including:
Non-verbal communication. Art therapy allows people diagnosed with Alzheimer's to connect with others in a non-verbal manner. It is also a healthy way to help them express their thoughts and emotions and let go of some of the negative feelings they may be having.
Enhanced focus. Art therapy helps seniors to improve their concentration and focus. Instead of trying to work on abilities that have been lost, art therapy aims to develop the abilities that are still available in people with Alzheimer's.
Improved behavior. Creating and viewing art both provide a calming effect on a person with Alzheimer's disease. Art therapy provides the same effects as listening to music or playing with pets. According to Dr. Warachal Faison, clinical services director for the Alzheimer's Research and Clinical Programs at the Medical University of South Carolina, "art therapy may promote relaxation, improve mood, and decrease disruptive behavior."
Closer relationships. Art therapy can bring a caregiver and a senior with Alzheimer's closer together. When other methods of contact become challenging, art therapy is one way to remind the caregiver that the person with Alzheimer's is still there.
Lester Potts: An Alzheimer's Patient and His Paintings
Lester Potts had never painted prior to his diagnosis of Alzheimer's disease at age 70 in 2001. In the words of his son, Dr. Danilel Potts, neurologist at the Tuscaloosa Veteran's Administration, medical director of Dementia Dynamics, LLC, and founder and president of the Cognitive Dynamics Foundation, "a miracle occurred."
"It is a known phenomenon that folks can find artistic abilities that had been previously unknown when they get Alzheimer's and other kinds of dementia," says Dr. Potts. This was Lester's first painting: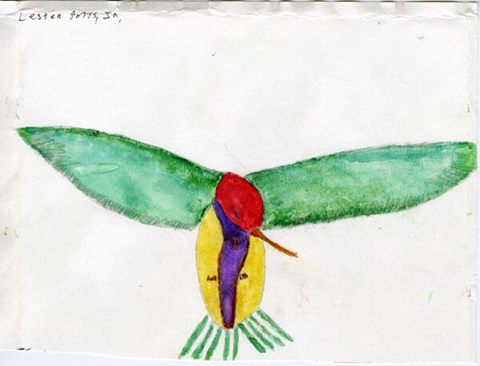 When Lester began succumbing to Alzheimer's, his family witnessed changes in his demeanor. When he started painting with watercolors as part of his therapy, Lester and his family did not only discover his talent for painting, this also helped him get out of his depression. For Lester, painting not only provided comfort and creative stimulation, it also gave him a great sense of self-worth and dignity – which is often lost as the disease progresses.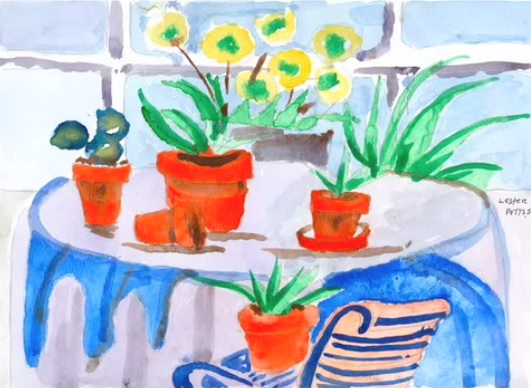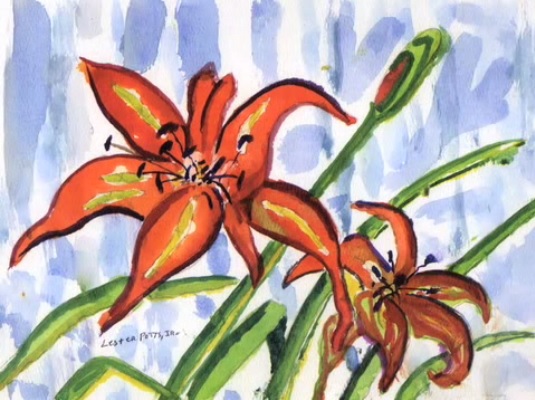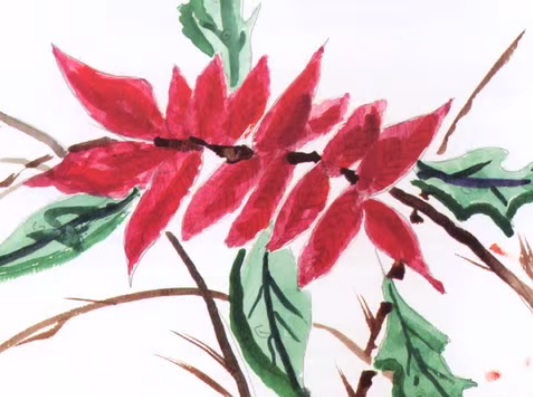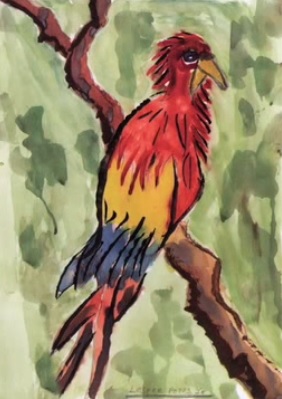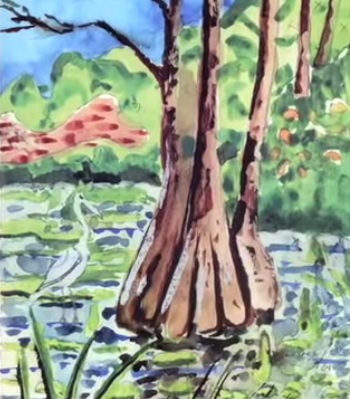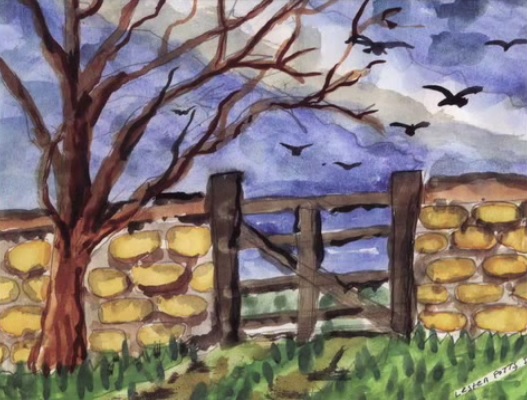 As Lester's disease progressed, his paintings also evolved. Although he eventually lost his ability to write and talk, his paintings continued to feature memories from his youth, offering comfort to his family. Dr. Potts, says, "This is the painting [below] we are most excited about of Dad's. It was painted when he had late-stage Alzheimer's and when he couldn't really put a sentence together." From the images in the painting, the saw, hat and boot, Lester's family sees this as an abstract representation of himself. But when asked about this, he could no longer tell you.
I Remember Better When I Paint: A Documentary About Alzheimer's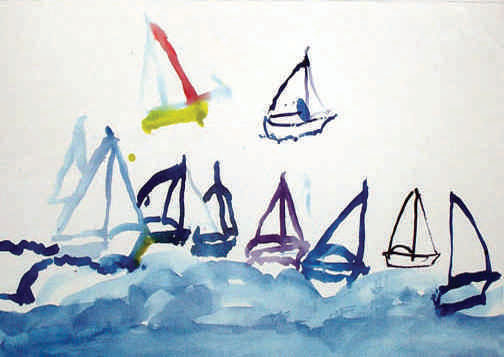 The documentary "I Remember Better When I Paint", narrated by Oscar-winning actress Olivia de Havilland, features an inspiring interview with Yasmin Aga Khan, daughter of renowned American actress Rita Hayworth, who was diagnosed with Alzheimer's and took up painting while struggling with the disease. Rita also created beautiful works of art which were featured in the film.
The documentary discusses the common myth about Alzheimer's that it is a absolute death sentence, that once diagnosed with the disease, a person will eventually deteriorate into an unrecognizable shell of his or her former self. On the contrary, this is not the case, as art therapy can reunite Alzheimer's sufferers with parts of themselves, even at the later stage of their disease.