Best Tips for Osteoporosis Prevention and Management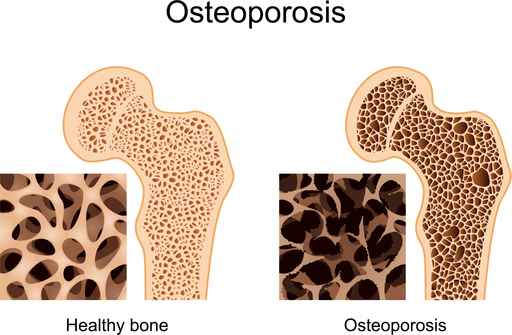 The transition from a hectic life of 9 to 5 to a life of idyllic living is never an easy one, but retirement means a lot more than just having more time on your hands. It means you're free to travel, visit old friends and pretty much do all the things that you've been "meaning to get to" all these years. It also means that the time has come to prepare for some of the things you never thought would affect you.
One of those things is osteoporosis.
However, osteoporosis doesn't have to invoke images of frail bones and frequent fractures. In fact, a lot of seniors deal with it adequately with the help of preventive and restorative methods that include proper diet, supplements, lifestyle adjustments and treatment.
The first step in dealing with osteoporosis is to understand how it sets in. As the human body ages, its ability to maintain optimal bone density gradually declines. This often takes years to set in, but the condition may set in quickly for many – especially in the case of post-menopausal women.
The key factor in prevention is early diagnosis. While majority of cases aren't reported or diagnosed during initial stages, the best way to deal with osteoporosis, is before it has caused a significant drop in bone density.
There are a number of ways in which the onset of osteoporosis can be dealt with effectively – and in several cases, even reversed.
Diet
There are several foods that effectively help fight osteoporosis when consumed as part of a regular diet plan. Milk and other dairy products are a rich source of calcium, but for the lactose intolerant, foods like broccoli and kale work well, too.
Supplements
Most doctors will advise a calcium supplement of at least 1000 mg per day. For post-menopausal women, that figure may be increased to 1200 mg per day. In addition, a vitamin D dietary supplement is often recommended, which can come from sources such as salmon, and milk supplemented with vitamin D. Protein supplements may also be advised in addition to calcium and vitamin D, especially for those who have already experienced an osteoporotic fracture.
Smoking Cessation
The hazards of smoking are well known for the most part, but not many people are aware that enhanced bone reduction is yet another effect of long-term smoking. Studies have shown that pack-a-day women smokers can lose up to 10 percent of bone density by the time they hit menopause. The positive impact of quitting cigarette-smoking, therefore, is obvious.
Fall Prevention
For those who have been diagnosed with osteoporosis, fall prevention is critical. This can be done in many ways:
Removing loose rugs and cables out of the way
Providing adequate lighting near entrance thresholds and stairwells
Avoiding walking on slippery surfaces; slip-proof mats are ideal for bathrooms, for example
Getting eye check-ups done regularly to ensure that vision is always optimal
Medication
In certain cases, medication may be advised. Such medication may include hormone therapy with Estrogen/Progestin, or a number of other options such as biphosphonates or Zoledronic Acid. The choices are many, and your doctor will be able to recommend the best course of action for your particular condition.
Lifestyle Considerations
Osteoporosis is highly preventable and treatable. It does not have to affect the ability to live a normal life if dealt with appropriately. Aging itself is a normal process and, with the right treatment, osteoporosis never has to become a barrier to a healthy and happy lifestyle. The important thing to understand is that it is, for the most part, within your control. The right preventive methods, the right treatment methods and a few minor changes in daily habits can go a long way in contributing to your living your retirement just the way you want it.