The Best Tool for Seniors in Case of Emergency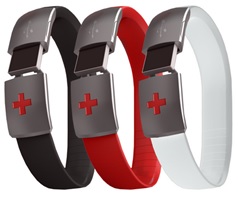 Emergencies can happen to anyone at any time, anywhere. While seniors are most likely to have someone with them if and when this happens, it is also possible that they might be alone when an emergency hits or they may be with someone who does not know their medical history. Having all of your pertinent personal and medical information with you when you are unable to to speak for yourself will be very helpful for your rescuers such as paramedics, police officers, or firefighters to provide you with the appropriate medical attention and also contact your your next of kin, caregiver, nurse, or senior home staff.
Important Information Needed During Emergency
Here is a list of the important medical and personal information that would be helpful to have recorded for seniors, to make sure that these are relayed to emergency respondents in case you are unable to recall to tell them these critical information:
List of allergies – include medications, foods, and other allergens
Medications – specify the names, dosages, and times taken
Health insurance information – detail the insurance company name, senior's name as it appears on the card or policy, and contact information
Healthcare providers – provide the contact information of doctors, dentist, pharmacy, and eye doctor
Advance directives – include where are copies kept, who is power of attorney or proxy
Medical diagnosis history – list diagnosis such as hypertension, diabetes, cancer, etc.
Blood type
Health history – list all medical procedures and when the year they took place
Immunization record – what was given to you and when
Height and usual body weight
Physical activity level – specify if you have any immobility issues
Adaptive devices being used – cane, bedside commode, etc.
History of falls – include the dates and injuries sustained
Medical readings logs – blood pressure, blood sugar numbers
Recent lab results or radiology reports – include the dates these were taken
Results of any preventive health screenings – mammography, prostate, bone density, etc. and the dates when these were completed
Life insurance information
Funeral preparation plan – include name, address, and contact information
Organ donor information
While gathering these information may seem to be too overwhelming, having these handy once you have been rescued from an accident or any type of emergency can greatly help determine your survival.
Carry Vital Information with You 24/7
In 2005, a British paramedic, Bob Brotchie, developed a program called ICE (in case of emergency) which enables first responders and hospital personnel to contact the individual identified in the victim or patient's phone as his designed person to contact in case of emergency. While this may be helpful, the information is not readily available and may even be difficult to obtain if the phone is locked or dead. Another option would be to write down all of the details on a sheet of paper, but what if this is lost during an accident?
Preparing for an emergency will necessitate something that will be readily accessible, containing all the pertinent information about you and your health condition, and will not be lost even in the most severe situation. Late last year, a USB emergency medical ID wristband called EPIC-id was introduced. This durable and practical accessory contains the universal red cross symbol which makes it easily recognizable by emergency respondents. Specifically created for outdoor enthusiasts, athletes, and people with medical conditions, this wristband opens to expose the flash drive which can be plugged into any computer without requiring a password, so any authorized medical personnel may access the complete medical information that will be vital in the patient's survival.
Wearing the EPIC‐id provides added security and assurance that encourages seniors to continue staying active and enjoying life, knowing that you are equipped with everything you need if an accident or emergency does happen. If you have any serious medical condition such as diabetes, seizure disorders, or certain food allergies, you can store all these critical information in your EPIC‐id and this will be available to the first responders that will be attending to you.
Reliability and Ease of Access
EPIC-id contains a waterproof USB flash drive with a patent pending durable stainless steel Click-Secure Closure™ and a comfortable, custom‐fit hypoallergenic silicone band. The proprietary EPIC‐id software is PC/Mac™ compatible, easy to update, and secure, containing information kept inside the USB and never uploaded on a cloud. You are able to wear the information any time, anywhere and you can rest assured that the information safely stays with you and becomes accessible to authorized personnel only when an emergency requires them to get your information.
How EPIC-id Works
The wristband is primarily an information storage tool which you can purchase online and update with your information as soon as it is delivered to your doorstep. The wristband retails for USD $35 and you have the option of personalizing it with a custom ID tag with your personal information, such as your full name, location of residence, and contact information of your next of kin for just $15.
Once the item has been delivered to you, all you need to do is click open the wristband to expose the USB, insert this into a computer, and update the form with your personal information. The open fields on the pre-loaded forms make data entry easy and convenient. There are notes and additional information sections to guide you and allow you to include as much information as you like. Unlike web‐based IDs or smart phone medical ID apps which require subscriptions, passwords, and Wi‐Fi connections, EPIC-id is readily available and able to provide all of your important information to professional first respondents during an emergency. All they have to do is connect EPIC-id to their on‐board computers and get the critical medical information and pertinent contact details without the need for a charged phone, passwords, or a Wi-Fi connection.
It is important for seniors to be able to enjoy each and every day without having to worry about what could happen to them and if they will be given the proper medical treatment if they are not accompanied by their next of kin or caregiver when an emergency hits.  Epic-id will give you the peace of mind that you need, assuring you that whatever happens, you are prepared and equipped with a reliable tool that will help communicate all the pertinent information that will help save your life.