Celebrating a Multi-Generational Thanksgiving with Senior Loved Ones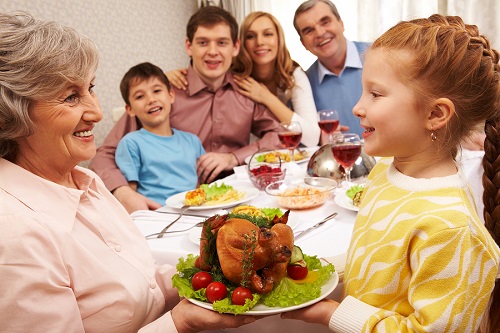 In Canada, Thanksgiving is celebrated on the second Monday of October. Parliament called it "a day of General Thanksgiving to Almighty God for the bountiful harvest with which Canada has been blessed". If you have a senior loved one who is living in a retirement community, it would be a great occasion to gather the entire family in visiting them and making this day one of the most memorable times of their life.
Celebrating Canadian Thanksgiving in a senior home can be a unique, inspirational, and memorable occasion for the entire family, from the youngest grandchild to the oldest member of the family. While this holiday is typically spent watching football and having turkey for dinner, celebrating it by visiting a senior family member in retirement home is one way to genuinely celebrate this special occasion as a family.
Here are a few suggestions on how you can make this year's Thanksgiving a much more memorable day for your entire family, especially your senior loved ones:
Enjoy It with the Whole Family
Take the turkey to the retirement home and bring some of your favorite board games, playing cards, or dominoes with you. If you are a family of musicians, bring your instruments over and add in the little one's drum, thumb piano, or jingle bells. Or maybe your family enjoys singing. Nowadays, you can enjoy a "karaoke night" by simply downloading a sing-along app on your iPhone, Android smartphone, or tablet and connect your mobile device to portable speakers. If the kids and the kids at heart love to dance, grab your Sony Playstation and have a party with Just Dance!
Old Photos Never Get Old
Holidays are the perfect time to flip through old family photo albums and listen to our elderly family member's stories about their younger years. This activity is a wonderful way to bring families together on an emotional level. Browsing through pictures of the past will not only bring happy memories back to your senior, it will also give the younger members of the family a glimpse of what life was like when everything was much simpler. It will also be a good opportunity for them to see you when you were their age!
Cooking with Favorite Family Recipes
Every family has that favorite holiday dish that follows a special recipe that is handed down from generation to generation and Thanksgiving is an opportune occasion to prepare that dish. Call your senior in advance and ask for the ingredients so you can prepare these ahead of time, then bring these over when you visit them for Thanksgiving so they can help out in the cooking. Don't forget to make dessert!
Watch a Movie
If the senior home has a large flat screen television, it will be a great idea to watch a movie together with the rest of the community's residents after Thanksgiving dinner. It is amazing how you can store movies in a USB and take them with you in your pocket! Another way to enjoy a movie would be to bring a projector to the senior home, gather everyone outside in the garden and pick a wide wall as your screen. The fresh air, cool breeze, and relaxing movie will be an excellent way to cap off the night.
Share Your Blessings
Giving back to the community as a whole family is not only a great way to teach the younger members of the family the value of sharing and caring for others, but it is also a great way to make your senior loved ones feel that they are still a valuable member of society. There are many ways to spread love and blessings on Thanksgiving. You can volunteer to help an organization or church with their food drive or soup kitchen. There may also be some programs for veterans and their families which you can participate it.
Thanksgiving is a special occasion to express gratitude for all the blessings you have received and the best way to celebrate it is as a whole family. Start planning how to make this year's Thanksgiving celebration truly special and memorable for everyone in your family.