Celebrating Mother's Day with an Aging Parent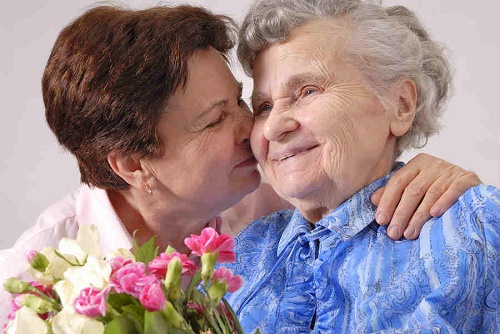 Planning a Mother's Day celebration with your senior mother can be a bit daunting, but keep in mind that what matters the most is that you spend time with her on this special occasion. Here are a few things that might help you prepare for Mother's Day celebration in a senior home.
Write Her a Letter
Instead of the usual greeting card, try to write her a letter. You don't have to be such a great writer to put together in written form all the feelings and memories you'd like to express to your aging mother. Be sincere, thoughtful, and loving in what you write. The number of pages does not matter, as long as you write in your letter all the things that you have been meaning to say but have not been able to actually do so because visits to the retirement home sometimes is not enough to allow you to get comfortable enough to express everything you want to say.
What's good about writing a letter is that it lets you go beyond the usual content which is greeting your mother and telling her you love her and think of her always. Writing a heartfelt letter lets you bring back fond memories when you were both much younger than you are now, share your thoughts and feelings about not being able to visit her as often as you want to, and tell her that she is so much special than what you are able to show her. It will be best if you can hand the letter to your mother in person, but in case you are unable to do so, make sure to give her a call on Mother's Day.
Give Her a Plant
Consider giving your mother an indoor plant this Mother's Day instead of a bouquet of flowers. Plants are a great way to ornament your parent's room and at the same time motivate her to take the time to take care of it which can help her mood and even increase her physical activity. Choose a plant that is attractive and requires minimal sunlight and water so it stays in good condition for a long time. Cacti are a good option. There are many types of flowering cacti that have bright blooms and very interesting forms.
Create a Scrapbook
Make a scrapbook for your mom. Get creative and put together photos, ornaments, and clippings that bring back happy memories for your elderly mother. You can also include old postcards, greeting cards, cut outs from boxes of her favorite chocolates or cookies, old drawings from your childhood, printouts of episodes of her favorite television shows – anything fun and memorable that will bring a smile when she sees them. This gift will definitely make a very enjoyable chat when you present it to her!
Bake a Cake
If you know how to bake, bake your mother her favorite cake, cookies, or pastry and bring some tea bags with you to the senior home. Share the cake with her fellow residents and have an afternoon tea party. Not all residents in retirement homes are visited by their loved ones on Mother's Day and sharing this occasion with them will definitely warm your mother's heart and theirs. Bring some paper plates, disposable coffee cups, paper napkins, and plastic utensils so it is easier to clean up after. And don't forget to add the most important ingredient when baking – your love. Bring your kids, too. The more people sharing this moment, the more fun it is!
Celebrating Mother's Day with your aging mother is extra special no matter what her condition is because she is alive and with you on this occasion. Not everyone is blessed to have their parents living long enough to see them succeed in their careers and have their own families, so be thankful to have the opportunity to celebrate Mother's Day with your senior mom this year and make it a loving and memorable one.