Chartwell Retirement Residences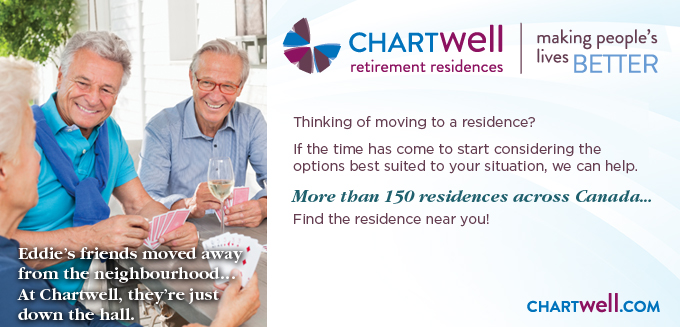 « Making people's lives BETTER » is more than a pleasant phrase at Chartwell; it is a promise and one we consider to be our highest priority. We want our residents to know that the care and services they receive in a Chartwell home will make their lives happier, healthier and more meaningful. We want family members to rest assured that their loved ones are safe, active and engaged while living in any one of our retirement or long term care residences. At the same time, we want our employees to know that their contributions are valued and appreciated.
Our core values of RESPECT form the basis of our relationship with all of our key stakeholders including our residents, their family members, and our employees. At Chartwell, we define RESPECT as:
Respect
Empathy
Service Excellence
Performance
Education
Commitment
Trust
If you or a family member is considering a move to senior housing, I invite you to consider a Chartwell residence. Chartwell offers a wide spectrum of seniors housing choices from independent retirement residences with the option of assisted living services to long term care. Our residences are true communities and we believe that the right support services can help prolong independence while satisfying everyone's individual needs.
Trust, accountability and RESPECT are the guiding principles at Chartwell and together with our commitment to "making people's lives BETTER." We look forward to meeting your needs.