Cycling Without Age Benefits Seniors In So Many Ways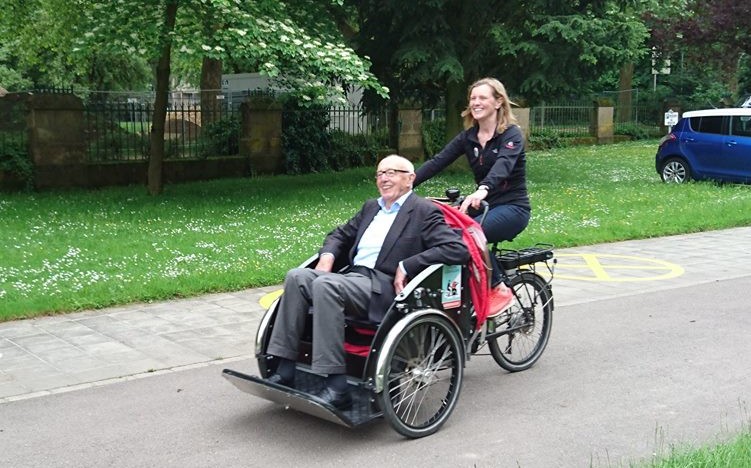 It is such a blessing when a younger man's passion paves the way for seniors to continue enjoying theirs. Such is the story of Ole Kassow, the man who started the Cycling Without Age campaign in Copenhagen.
It all began when Ole noticed Thorkild, who was 97 years at that time and a resident at a local nursing home, seated on a bench one sunny morning as he was riding his bike on his way to work. And every day after that, Ole has been seeing Thorkild seated on the same spot for the next two weeks.
Ole noticed that Thorkild had a walking frame beside him. An avid biker himself, Ole thought that Thorkild must have been a bike rider during his younger years, when Copenhagen's streets were bustling with bicycles, which were "the most important mode of transport" at that time. Then Ole thought, maybe Thorkild must miss cycling, too.
The First Passenger
This inspired Ole to think of a way to make it possible for Thorkild and other seniors like him to experience riding a bike once more. So one morning, Ole visited the nursing home with a rented rickshaw and offered to give the residents a ride. It was then that he realized that his idea was a crazy one and that he was likely to be kicked out from the nursing home.
Much to his surprise, the staff thought that Ole's offer was a great idea! So, the staff and a senior resident named Gertrude were his first riders. The ride lasted about an hour, and Ole felt the "magical bond" he had with Gertrude. It was as if he travelled back in time.
The next day, he got a call from the nursing home staff, asking Ole to give a ride to the other residents. And that was the start of the whole campaign that gave so many seniors and their "pilots" an amazing adventure. As Ole said, "the bicycle also happens to be the happiest means of transport."
Living Life Once Again
Ole shared the wonderful impact riding the rickshaw gave so many elderly individuals not only in the nursing home but in so many cities in Denmark. There were seniors who stopped talking over the years and after the ride, they were started talking again. Those with dementia were observed to have lost their aggression. Blind seniors shared how the adventure made them so happy to be smelling the flowers, hearing the birds, and feeling the wind in their hair.
Ole witnessed people singing and smiling, and heard them saying, "I thought I'd never cycle again," after their bike ride. Ole got goosebumps to hear someone say that this was the best holiday she ever had. One elderly woman said, "I feel alive again."
"It's All About Creating Relationships"
This movement is not just about riding a rickshaw with the elderly, but building a bridge between generations. Every ride becomes the beginning of new intergenerational friendships, where both young and old gain mutual benefits from the stories, smiles, laughter, food, and experiences they share.
On Thorkild's 99th birthday, Ole took him out for a glass of wine. This celebration of two men reached about 50 people, as people passing by would stop to talk with them. The whole encounter is not exclusive to the elderly passenger and volunteer pilot, it is a gateway for seniors to reconnect with the whole community – a feeling that they all yearn for.
"Even if you are close to a hundred, life can and should be beautiful. And, life in a nursing home should be a place of joy and continued mobility."
Beyond Denmark
Today, 28 countries, including Canada, have been granted a royalty free license to give their elderly in their local nursing homes the same amazing experience. It is such an inspiring story, to see how one man's initiative for his local nursing home's residents have spread to so many places in just a few years.
This just goes to show that sincere human connection can lead to so many great things, especially to the elderly members of society. Now, I'm wondering what the next great idea would be…
Watch Ole's Talk on Ted below: