Design Ideas for Seniors with Dementia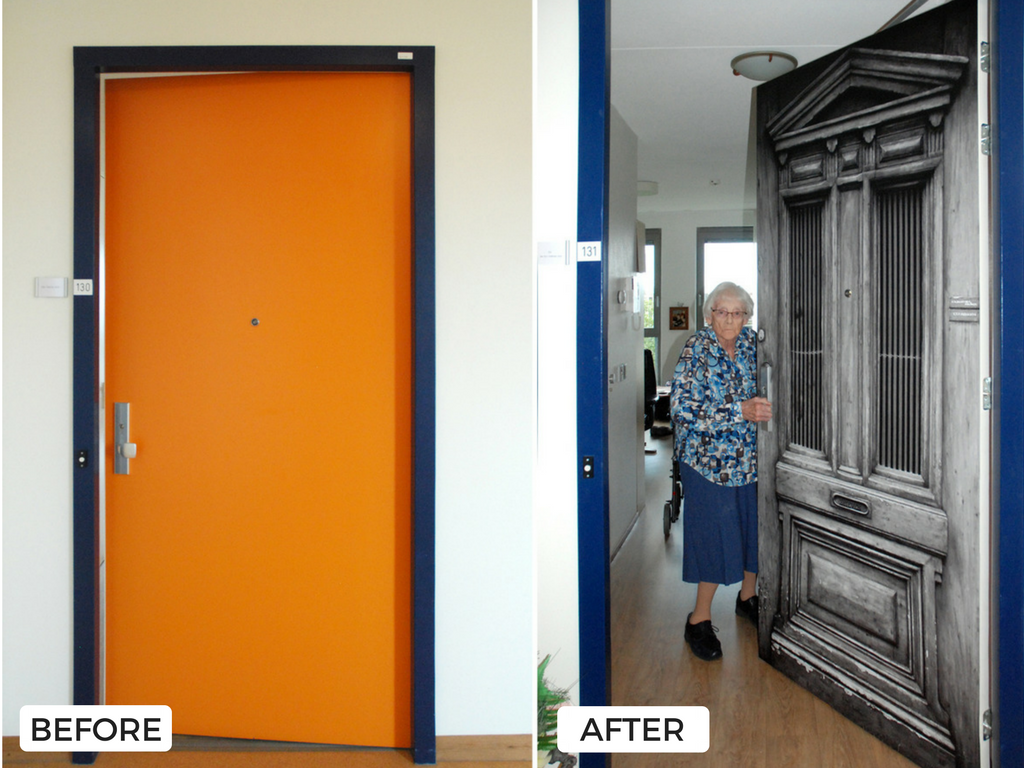 Photo Credit: Truedoors
Scientists and innovators are constantly coming up with design ideas for seniors with dementia to improve their quality of life. According to Alzheimer's Disease International, near 48 million people in the world have dementia, with the number projected to reach close to 75 million by 2030. With this number estimated to triple by 2050, even more innovations are needed to help dementia sufferers cope better with daily challenges, and today we are sharing four of our favourites.
Design Idea #1: A Personalized Door for Your Home
Everyone longs for finding that place where they can "feel at home".  For seniors with dementia, building this feeling is even more critical.  True Doors, a Dutch company, offers personalized door decals to help senior care facilities feel more familiar to its residents.
Even though this design idea is for everyone, it greatly benefits seniors with dementia. Seniors can choose a particular door decal from True Doors extensive collection, or can recreate a door from a former home to make it even more recognizable. With a familiar and personalized door, seniors recall beautiful memories, feel more comfortable and at ease. Seniors even enjoy that their new door design shows part of their personalities!
In the Netherlands, True Doors has already been recognized as innovators in the senior living industry, winning the 2014 MSD Care Award.
Design Idea #2: An Interactive Digital Game
Designer Hester Le Riche and Professor Erik Scherder were concerned about the passive behaviour of seniors with dementia and the negative impact on their health. After lots of research and many prototypes, they came up with Tovertafel, a game designed for people with moderate to severe dementia.
The game itself consists of different lights projected on a table. The lights react to hand and arm movements motivating seniors to interact, and stimulating their minds and physical activity. Not only this game helps improve the behaviours of seniors with dementia, but it also brings them joy!
Design Idea #3: A 1930s and 1940s Inspired Retirement Home
A retirement home in Ohio, The Lantern Of Chagrin Valley, offers memory care under the Svayus program.  The facilities that are part of the program look like tiny houses on a golf course resembling a neighbourhood from the 1930s or the 1940s. Every detail is considered from the exterior of the homes to artificial plants, cute porches and even a sky ceiling that changes colour during the day!
According to Jean Makesh, CEO of Svayus, seniors with dementia tend to revert back to their childhood or early years.  The design at Svayus allows its residents to feel more at home in an inviting, familiar and calming environment.
Design Idea #4: A Village for Seniors with Dementia
In 2009, Dementia Village Advisors came up with the concept of a residential area only from seniors who suffer from dementia. The Hogeweyk is a complex in Amsterdam, Netherlands, comprised of 23 houses with 152 residents.  The Village has a supermarket, staff members who help manage every household, streets, squares and gardens. Residents benefit immensely since everyday elements are recognizable, which helps them feel independent and part of a community.
The concept is so popular that Dementia Village Advisors is opening a village in Italy this year.  The Hogeweyk was already featured in CNN's World's Untold Stories.  The complete episode can be watched at CNN's World's Untold Stories: Dementia Village. It is truly inspiring!