Gardening Tips for Seniors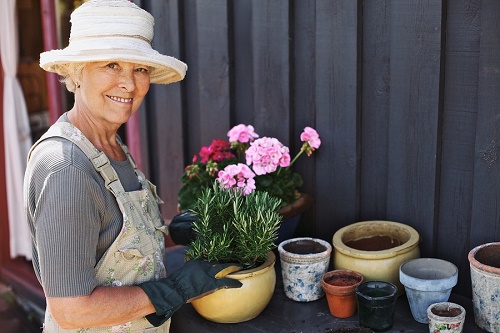 Gardening provides a natural motivation for seniors to get up and get active outdoors. Not only does gardening promote strength and mobility among the elderly, it also helps to improve their self esteem and reduce stress. However, the activities involved in gardening, such as lifting, bending, pruning, and weeding can challenge the physical limitations of older gardeners. Here are some gardening tips to help seniors perform this activity safely and more effectively for their age.
Use the Right Gardening Tools
Replace your old heavy steel tools with lightweight hand tools that have rubber handles and ergonomic designs. These tools will make it easier for you to garden and will not be requiring much effort on your part. You will find that using gardening tools with offset handles make digging and weeding much easier. You can also cover the handles with foam tubing, like the one used for pipe insulation. Keep your tools sharp so less effort will be needed from you when you are gardening. Add handle extenders to shovels and other gardening tools to avoid bending and lower back pains.
Pace Yourself
Paula Kramer, an occupational therapist at the University of the Sciences in Philadelphia, advises, "For several days before digging in, do some gentle range-of-motion stretching of arms, back and torso." When you start working in your yard, remember to change your position and activity every 20 to 30 minutes, and then rest for 10 minutes. Doing this is important so that you will not be too sore to go back to your gardening routine the following day. Also, if you have arthritis in your hands, it will be good to soak them in warm water before you out on your gloves.
Choose Low Maintenance Plants
You need to choose plants that are easy to maintain and can withstand different conditions. Choosing the right types of plants makes gardening for seniors less strenuous and more enjoying. An example of a plant that does not require a lot of attention and maintenance is French Lavender, a beautiful and fragrant plant that does not require much water.
Consider Raised Planting Beds
If you prefer to sit while attending to your plants, you might want to consider having a rectangular raised planting bed adjacent to your chair so you will not have to bend and hurt your back. The height of your planting bed can vary, but its width needs to measure about an arm's length to make it easy for you to reach the plants and also so you will not lose your balance as you reach across the bed. The raised planting bed can be built from treated wood, secondhand lumber, or concrete blocks. You can build it yourself or avail one from a commercial outlet for raised planting beds.
Try Container Gardening
Container gardening will allow you to plant a wide range of plants without having to manage a big garden. You can choose to take care of a variety of colorful and fragrant flowering plants or grow your own vegetables. You can use different types of containers, even use old baby bathtubs, buckets, wheelbarrows – anything you find interesting. If you are planting vegetables and small trees, deep containers are ideal.
Go Vertical with Vines
Cultivating vines on trellises, exterior walls, or fences allows you to work standing up which avoids putting pressure on your lower back and knees. In addition, managing a vertical garden is a great space saver. Keep the height of your vertical garden within your arm's reach for convenience, especially if you are growing fruits or vegetables that you will be harvesting.
Replace Your Wheelbarrow with a Wagon
Instead of a wheelbarrow, a wagon with large, sturdy wheels will be better to ensure that you safely move plants and tools around your yard. Wagons are also easier to use compared to wheelbarrows because they do not need to be lifted or pushed.
Gardening is such a great hobby for seniors because it not only gives them a reason to get physically active everyday, it also gives them a lot of happiness. If you have not yet started gardening, today is a good day to do just that!