Gift Ideas for Senior Loved Ones on Mother's Day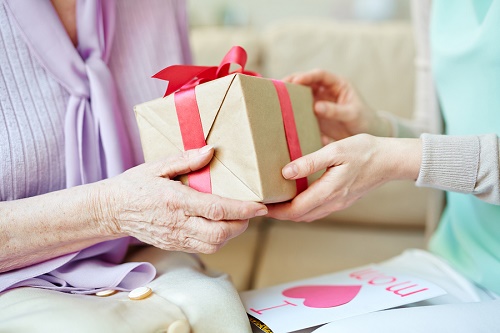 Shopping for a Mother's Day gift for your senior mother or grandmother may not be as easy as buying a gift for younger family members or friends because of the age difference, but having a few options will help. In this article, we will be sharing various gift suggestions for elderly mothers so you can choose the one that best matches the personality and interests of your own senior mother or relative.
Customized Photo Book
Photo albums are a great gift idea because of its sentimental value. Take it up a notch by ordering a customized photo book that showcases special occasions from their younger years and photos of the present, including pictures of their children and grandchildren. This is something that they can open every time they miss you and their other loved ones, and this will mean so much to them especially if they cannot be frequently visited by family and friends due to the location of their senior home.
Mobile Device
Mobile devices such as smartphones, tablets, or phablets are a great way to keep your senior loved one connected with everyone that matters to them. Aside from the messaging feature of the device, having certain social media apps, such as Facebook and Instagram, will make it convenient and easy for them to have access to what is happening with family members and friends all over the world. Skype and FaceTime are very useful in communicating with loved ones through video calls. She might also want to play certain games on her mobile gadget. If your mother is not tech savvy, install all the apps she will need and show her how to navigate through the device and use each app. You might also want to write down a few notes for her to review whenever she gets confused with the device. Include the username and passwords for everything on the device. It is better to have the same logins for all apps for easier recall.
Homemade Gift Basket
You can never go wrong with a personalized gift basket. Think of your mother or grandmother's hobbies, interests, and skills. If she loved to read, you can create a gift basket with a couple of books written by her favorite author and add in a book mark, a box of her favorite tea, and a trinket that complements the them of the books. If she loves to knit, put together a set of knitting materials, such as knitting needles and yarn in her favorite colors, crochet hook, notebook, pen, and tape measure. You can also compile a relaxation gift basket with lavender scented lotion, soap, bath gels, and a box of chamomile tea.
Games and Puzzles
These are inexpensive gifts that will never get old! Aside from keeping your senior mother entertained, these things encourage them to socialize with their visitors and other residents which will greatly help keep them in a positive mood within the retirement home. Also, games and puzzles are effective tools for brain stimulation, dexterity, and cognitive functions. Remember to consider your senior's physical limitations when choosing the game or puzzle. It is ideal to choose items with large pieces or prints.
Cozy Blankets and Throws
Give your senior loved one something to keep them warm such as a blanket or throw. This is the kind of gift item that makes them feel that you are with them whenever they are using it. You can quilt one to make it more personal, or you can buy one that is available in stores. You can even have it personalized to have a special message or a photo print.
Digital Photo Frame
A digital photo frame that is loaded with your family's pictures is an interesting piece that your senior would be amused to see. What's nice about this gift item is that you can always add or change the pictures to show recent events of the year, or to any photo that your senior wants. There are digital photo frames that allows you to send directly to this frame using an iPhone or Android phone. Others have motion sensors so they are only activated when there is someone nearby.
Your Presence
The best gift to your senior loved one on Mother's Day will always be you. None of these gift suggestions will matter if these were just delivered or sent by someone else. Everyone wants some time with their loved ones on special occasions, so if you want to give your elderly mother or grandmother a gift that they will cherish throughout their days, give them the gift of spending this special day with them.
So, which of these gift ideas best match your senior loved one? Whatever it is that you choose, make sure to include the last one. Happy Mother's Day!