Gift Ideas for Seniors on Father's Day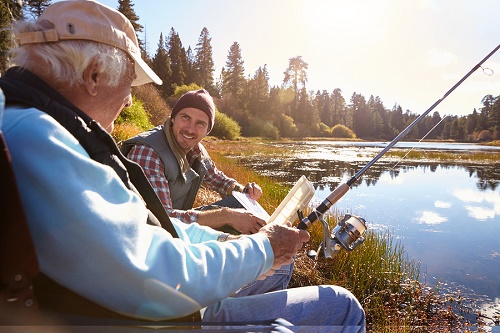 If your father happens to be a baby boomer or even older, it is high time that you give him something else other than a knitted cardigan. As people nowadays are living longer and enjoying more active lives during their retirement years. Sixty has become the new 40, and seniors in their 80's are far different from their counterparts in previous generations. This coming Father's Day, get your dad something that will match his lifestyle and interests, not his age.
Today's senior men would probably appreciate intangible gifts, not items that will just sit on the shelves and accumulate dust. If you are thinking of giving your father a necktie, don't! People in their retirement years prefer to experience more out of life than to receive something they already have. Let us give you a few ideas for Father's Day gifts, so you can give your dad something that will make them happy and thrilled to receive from you and leave them with fun and memorable moments:
Play or Watch His Favorite Game
If your father is into hockey or football, it is likely that he already has an impressive collection of signed pucks or football, autographed jerseys, and caps. Instead of giving him collectibles and memorabilia of their favorite sport, why not make him experience it? Buy a couple of tickets and go with him to his favorite team's game and pick up the food tab.
For a father who loves to play golf, a nice gift for him would be to book a few tee times in a nearby golf course. There are many public golf clubs that offer gift certificates. You can join him, or maybe give him the option of choosing who to bring along and enjoy a great morning in the greens. If your father has a membership in a private golf club, you can also purchase cart rentals or other extras that are not included in his club membership.
Take Him on a Trip
One of the perks of retirement is having time to travel, so take advantage of this luxury and take your senior father on a trip to his hometown. It would be much more fun if you go with him and even take your family with you so your father can spend quality time with his grandchildren. If you have accumulated airline or hotel points, you might be able to use these for travel and accommodations.
If your budget permits, send your father on an extended tour to a place that he has always dreamed of seeing. Maybe both your parents can go for a second honeymoon in Europe, or you and your dad can go to Disneyland and let your inner child have tons of fun.
Download Apps for His Gadgets
Not all seniors dread technology. If your senior father has a smartphone, tablet, computer, or game console, show him a few new apps which might be helpful for him or would be great source of fun and entertainment and download a few apps of his choice.
Make his old time favorite pastime games available in his device and purchase these from Google Play Store or iTunes. Crosswords Classic, Chess Free, and Scrabble are familiar games that will keep him preoccupied and his brain active.  Netflix and iflix are great apps to access TV series, documentaries, and movies. Spotify is a nice app to access music based on genres or artists and save them in playlists for convenience. Is your father a bookworm? Goodreads and Kindle would be wonderful apps for him.
Bring the Family Closer to Him
It is not always the case that everyone in the family is able to visit their senior loved one on Father's Day. Thanks to modern technology, though, virtual family reunions are made possible via video calls over Skype, Viber, and FaceTime. Contact distant family members ahead of time so they can set aside an hour or so for your video call with dad on Father's Day. It would be ideal to have the video call on a device with a larger screen such as a tablet or computer so it is better to see everyone.
Special occasions such as Father's Day do not always require that you give gifts. Sometimes, it is better to be there for your loved one and share this special moment with them.