Helping Seniors Embrace Technology in This High Tech World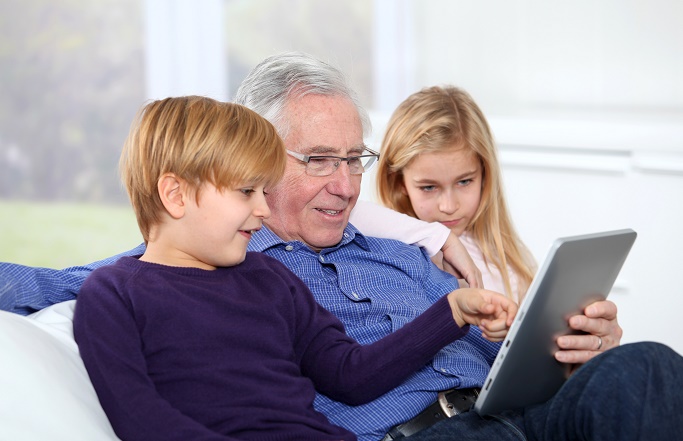 In today's high-tech world, social media and video sharing sites have made it so convenient to connect with family and friends, and with the entire world, in terms of knowing what's happening almost as it happens. The value of these connections that today's technology brings is so great that even senior individuals are embracing this technology and having so much fun with it!
The Pew Research Center's Internet & American Life Project shows that 85% of seniors are using the internet – 79% of older boomers aged 57 to 65, 67% of the silent generation aged 66 to 74, and 40% of the G.I. generation aged 75 and older. Even mobile phones, which used to be dreaded devices in the past, have become popular with seniors, with 86% of seniors aged 57 to 65 using mobile phones, 76% for those 66 to 74, and 63% for seniors 75 and older. In terms of social media activity, 59% of seniors are into social networking sites.
Despite the large number of seniors who are currently embracing technology and are using it to strengthen their personal connections and also to keep themselves up to date with the events happening around them and all over the world, including the weather and the latest health breakthroughs, there are still some seniors who are resilient to these technological advancements.
Factors Affecting Seniors' Openness to Technology
According to the same survey, there are three key factors may be deterring seniors from embracing technology:
Skepticism about the benefits of technology
Physical limitations that prevent them from being able to use computers and mobile devices
Difficulty learning new technologies
If you can help your senior loved ones overcome these challenges, they will be able to start benefiting from the use of technology.
How Seniors May Benefit from Technology
Just as we, the younger generations, are enjoying the convenience that the use of computers and mobile gadgets and the availability of the internet brings, so too does the older generations. And those who are afraid of exploring these technologies are missing out on a lot of opportunities to connect on a personal, social, and intellectual level.
Connect. One great benefit of the internet is its ability to connect family members and friends through social media website and video and photo sharing sites. Facebook is one dynamic social media channel that allows multiple types of activities – sharing of information, messaging, photo and video sharing, and phone and video calls.
Learn. The internet is also a gigantic resource of information. There are countless websites that provide news and current events. Search engines, such as Google, make it very easy to find answers – from the nearest clinic to the best cinnamon roll recipe. Even your bank account balance is just a few clicks away.
Be entertained. YouTube has a plethora of videos that seniors can enjoy – from DIY tutorials to heart-warming clips. There are also e-books that they can download from Amazon. Even card games can be played on mobile gadgets and computers. If they are up to it, more challenging games are available for download, too.
Shop. Getting older may make it harder for seniors to go out and physically go from one store to another to look for that perfect sweater or scarf. Thanks to online stores, shopping can be done with just a few clicks! They might need some assistance entering their personal and credit card information once their cart is ready to be purchased but other than that, the online experience could be just as fun as actually shopping in a store.
Help Seniors Embrace Technology
Helping a senior loved one to overcome the barriers that prevent them from embracing technology may not be easy, but it is not impossible either. Here are some ways you can guide them into seeing the benefits of computers and the internet:
Take baby steps. You can start with something that your senior loved one is already comfortable with. If your mom is already using a mobile phone to make calls, you can teach her to text next. Then once you see that she is already comfortable using the phone for texting, you can suggest she gets a smartphone.
Don't get too technical. Instead of teaching your mom the different functions of your smartphone or laptop right away, which would most probably be too overwhelming for her, show her the many things she will appreciate from using these gadgets instead. You can show her pictures of her grandchildren from Instagram and Facebook, the old videos of The Carpenters and Frank Sinatra on YouTube, and show her how much fun you have playing games you've downloaded on your mobile device.
Choose the device they are more comfortable with. Based on the Pew Center report, senior individuals are more comfortable using tablets and e-book readers than smartphones. Age-related physical limitations may be a factor. Having arthritic fingers could make it challenging for seniors to operate smaller smartphones which require precise manipulation. Observe the individual preference and abilities of your senior loved one and introduce them to the device that they will be able to use comfortably.
Be patient. Helping your senior loved one become comfortable using gadgets and remembering how to perform certain functions with them might take time. Be extra patient and be open to the many questions that they might be asking. They may even be asking the same questions more than once. Remember that what you are doing will eventually enable them to take advantage of the many benefits of technology.
Once you have surpassed the hurdles, your senior loved one can now join the many elderly individuals who are taking advantage of all the connections, knowledge, and entertainment that the internet and their gadgets give them. This is one way you can help them enjoy their retirement years even more.