Horses Visiting a Retirement Home is Love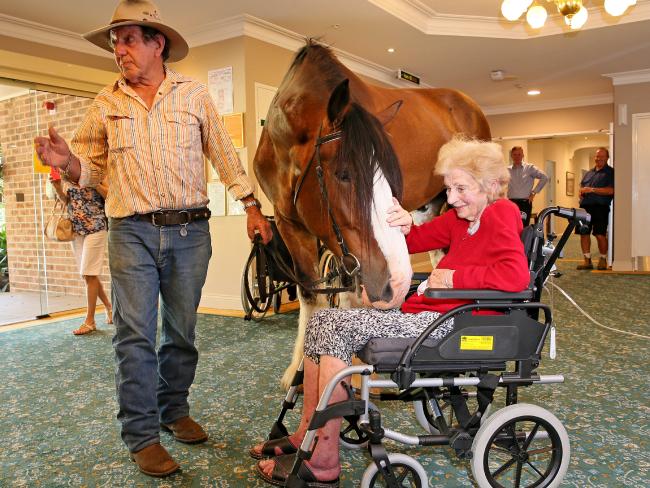 Photo credit: Troy Snook | www.dailytelegraph.com.au
In a recent article, we talked about how having pets can be beneficial for seniors. However, for those who live in retirement homes, this may not be possible and the closest thing to this would be having animal visitors. In the case of residents at the Tarragal House nursing home in Erina in New South Wales, Australia, two giant horses recently paid them a surprise visit.
Meet Lenny and Sonny
The pair were Clydesdale horses — Lenny, 8 years old, and Sonny, 5. During his talk to the residents, Gary Cullen, bush poet and Clydesdale owner shared, "Lenny's been into a bar and even a lift before, but this was the first time Sonny had been inside a building." Gary has owned these Clydesdales for eight years and has been entering them in competitions at the Sydney Royal Easter Show and other events. According to him, the gentle nature of Clydesdale horses makes them ideal for showing to seniors.
Having these two horses around even for just a day had a remarkable effect on the residents. Joe Cappello, a 95-year old resident at the senior home, used to go to races, but never got close to the horses until that day. He's seen below walking Lenny and Sonny along the home's carpeted lobby.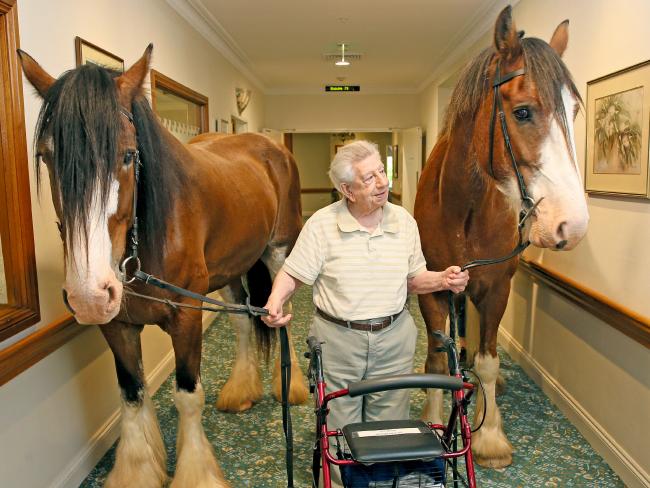 What Makes Horses Ideal for Therapy
Equestrian Therapy, also known as Equine Therapy or Equine-Assisted Therapy (EAT) is a form of therapy that makes use of horses to help promote emotional growth. Although elephants, dolphins, cats, and dogs may also be used in animal therapy, horses are the most popularly used because of how they behave, which is very similar to human beings in terms of their social and responsive behavior, which makes it easy for seniors to establish connection with them. Horses are also able to respond immediately and give feedback to the individual's actions or behavior, and mirror the person's emotions.
Equine Therapy for Seniors with Dementia
While Equine Therapy is commonly used with children who have physical, emotional, and developmental disabilities such as autism, a new research from Ohio State University indicates that horses could provide a drug-free solution that will help ease the symptoms of dementia in seniors. The study was funded by Duncan Alexander, an Illinois businessman whose father had Alzheimer's.
Although the main symptom of dementia is memory loss, the disease may also cause personality changes, transforming people who are usually happy to irritable, withdrawn, and aggressive individuals. The calm disposition of horses as well as their ability to read the energy and body language of the people they interact with makes them a good companion to people with dementia.
Based on this research, people with Alzheimer's become capable of safely grooming, feeding, and walking horses under careful supervision. The experience also helps to improve their mood and caused them to become less likely to resist care or become upset later in the day.
Dabelko-Schoeny, an OSU associate professor of social work and a co-author of the study, shares, "A lot of people assume that older folks are too fragile to interact with large animals such as horses. That's absolutely incorrect."
The research involved 16 senior citizens at an adult day-care program at the National Church Residences Center for Senior Health on the North Side. Eight of the seniors who participated in the study visited the farm every week, while the other eight went on with their normal activities.
Rob Sampson, who managed the day-care program when the study was going on in 2011, shared how the seniors smiled, laughed, and talked to the horses during their visits and, "They were animated when they returned to the center, and many remembered their visits days later despite their short-term memory problems."
Those who had regular interaction with the horses were better behaved throughout the day compared to those who stayed at the center. They also became motivated to push the boundaries of their physical limits, even asking for help to stand up from their wheelchairs.
If you are a retirement home owner or manager, or if you have a loved one living in a retirement home, you might want to consider arranging a surprise visit involving lovely horses one of these days. This is certainly one way to bring smiles to their faces and great memories they will cherish for days to come.