How to Make the Most of Your Visit to Senior Home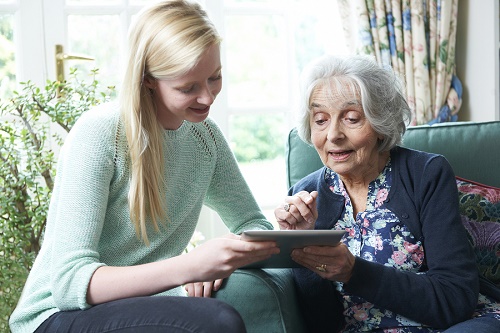 Thinking about your upcoming visit to your mom or dad in a senior home might be a bit stressful. Maybe it is because there is a bit of guilt in knowing that you do not visit them often or long enough. Or maybe you are anticipating that your visit would be awkward or boring. Whatever it is that is causing you stress, relax. With the right mindset and a little planning, your latest visit will be much better than the other ones. This article will be sharing a few tips so that your next visit to the senior home will be one that both you and your elderly loved one will enjoy and cherish!
Start By Listening
Ask your senior parent how they have been and encourage them to share stories about what has been keeping them busy lately. The conversation can even lead to them reminiscing about their past. Listen attentively and show them how interested you are to what they have to say. After all, it has been a long time since your last visit and they are most likely to be very excited to spend time with you. And before you even start feeling bad about taking too long to visit, remember that it is alright… they understand.
Bring Pictures
One of the best ways to avoid awkward moments is bringing pictures, or your tablet or laptop, and show them captured moments of family gatherings, vacations with your children, and anything about you and the family that will put them in a comfortable mood. You can also scan old photos that you have with them and show them to your elderly loved one. Ask them if they remember the stories behind the photos and help them remember by giving clues as to the occasion, place, or people who are included in the pictures.
Let Them Know Ahead of Time
Tell your senior in advance when you are visiting and what time. Elderly parents prefer to being given advanced notice over surprise visits, and they will appreciate you telling them ahead of time if you are planning to pay them a visit. This will allow them to prepare for your visit, clean their space, plan what outfit to wear, and prepare snacks.
Feel Their Joy
Every visit you make to your parent's retirement home is always cherished by them. You may not see their excitement because of their physical condition, but keep in mind that they are always looking forward to spending time with you.
Take Them Out for a Drive
Remember when you used to go out on a drive with your parents on a weekend? They may be too old now to drive or take long trips, but you can still have this kind of moment together. Take them out for a short leisurely drive to a nearby grocery store and buy a few snacks and refreshments, then go to the park and enjoy a nice, quiet afternoon on the greens.
Play a Game
Bring a deck of cards or a board game that you used to play with them during their younger years. Crazy Eights, Pinochle, and Rummy were very popular back in the day. Other games such as Scrabble, Chess, Cribbage, Dominoes, and Dice would also be fun. If you want fool proof games, Checkers and Bingo are time tested and proven favorites.
Add a Little Humor
If your senior loved one tells you that you don't visit them often enough, substitute a serious explanation with a little funny excuse and tell them that you had too much laundry it took weeks for you to finish them. During quiet gaps, break the ice with a joke or two. A simple knock-knock joke can bring in a few giggles to the conversation.
Be Loving and Understanding
Expect the worst – your elderly parent might push your buttons, say things that could upset you, or move too slowly. No matter what they say or do that might upset you, keep in mind that their old age is doing all these and try to put all that aside and remember how much they have supported you as you were growing up, all the things they did for you, and all the caring and nurturing they gave you. At this stage in their lives, it will be you who needs to be patient and caring.
Keeping these things in mind a few days before your visit will make it a lot lighter and happier, a moment that will be shared with love. Cherish these moments as much as they will.