Mother's Day Activities for Seniors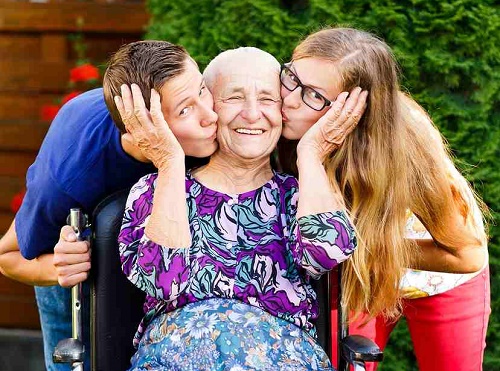 Mother's Day is an opportune occasion to show your aging mother, aunt, or grandmother that you appreciate everything that they have done. On this special day, take the time to visit your senior loved one and spend the day doing fun activities together.
Here are some suggestions on what you can do on Mother's Day if your senior is living in a retirement home:
Bond with the Family
There's nothing like having one day to share with the entire family. Reach out to siblings and relatives to come to the senior home on Mother's Day. You can cook your senior's favorite meal or order takeout from her favorite restaurant. You can then relax together while watching a movie or television program. If she is fond of reading, you might also want to bring a book written by her favorite author and read it out to her. Another activity she might enjoy is playing cards or a board game together.
Surprise Her with a Pet
Inquire with the senior home staff if pets are allowed in the facility. If this is possible, bring a dog or cat (whichever is preferred by your elderly loved one) so she can spend an afternoon joyfully playing with the animal. There are many health and emotional benefits from pets that your senior can get. Not only do they help seniors fight depression and loneliness, they also help improve their memory. Does your senior love horses? If the retirement home allows it, you might also want to consider visiting the senior home with a horse or two!
Take the Grandchildren to See Grandma
Kids are always a joy to be with, and your senior mother will definitely love to see her grandchildren on Mother's Day. It will be sweet for them to create a card for their grandmother. They can also sing for her, recite a poem, or perform a dance number for some entertainment! For older children who can bake, they can also bake cookies or muffins for their dear grandmother. Whichever way the kids show their love to her, your senior loved one will no doubt cherish it!
Have an Afternoon Picnic
Spend the afternoon relaxing outdoors and enjoying each other's company with delicious snacks and a few fun things. Prepare some sandwiches, pastries, and tea and enjoy the afternoon having a nice picnic at the retirement home's garden. Inject a little fun into this activity by blowing bubbles, playing her favorite music, and a flower crown.
Go Shopping
Every woman, regardless of age, loves to go shopping. Take her out on Mother's Day and have fun trying out new dresses, shoes, jackets, hats, and makeup! It will be like the good old days when you were both younger. The walk will also be a good workout for her. Make sure to ask her if she needs to sit and rest for a while during the entire time that you are out. Take her to an ice cream parlor or café for some snacks if she wants. Or maybe the shopping spree can also extend to movie night.
Go to the Spa
Give your senior loved one some pampering on her special day by going to the spa for a facial, a gentle head and foot massage, manicure, and pedicure. Massage offers a lot of benefits for seniors. It can help reduce pain and stiffness, promotes better circulation, and helps to improve the mood. And having a good mani pedi can immediately boost their self confidence and put them in a positive disposition.
Organize a Soiree
When was the last time your senior mother danced in a formal cocktail dress? It will be nice for her to experience a nice evening soiree and dance to some old favorites. Organize the soiree with the retirement home staff and administration and invite all the seniors to wear their best attire early ever of Mother's Day. Serve mocktails and some finger foods, arrange the reception area in Great Gatsby theme, and present a slideshow of your senior loved one and the other senior residents as backdrop to the stage. For an hour or two, it will be a nice evening party that will remind them of past romantic events in their lives.
Whatever suggested activity you choose for your senior loved one on Mother's Day, make sure to do it with love and enjoy it as much as she will!