Music Therapy for Seniors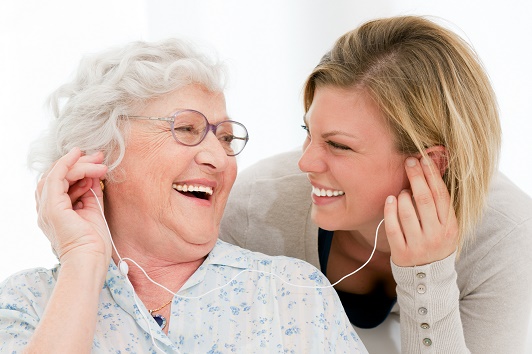 Music goes beyond making us dance to the beat. It has a powerful effect on our overall health and well-being as well, healing people regardless of age and gender. In fact, music therapy is one of the most effective treatments for seniors. Here's a video that shows just how music can impact an elderly's health.
Benefits of Music Therapy to Seniors
Music therapy is known to help maintain and restore the health of seniors, helping improve their memory and even battle depression. In the United States, the Older Americans Act of 1992 recognizes music therapy as "the use of musical or rhythmic interventions specifically selected by a music therapist to accomplish the restoration, maintenance, or improvement of social or emotional functioning, mental processing, or physical health of an older individual."
Music Therapy Helps Improve the Thought Process and Memory of Seniors. A Stanford research shows that through music, seniors are able to recall past events. Hearing a song can evoke a memory from long ago. Music is especially beneficial to older people with dementia. When presented with music from when they were younger, seniors show positive response and involvement, even those who are no longer able to communicate.
Music Therapy Slows Down the Deterioration of Speech and Language Skills. Music therapy helps elderly individuals preserve their speech and language skills by slowing down their deterioration. Through the help of music therapy, seniors are able to speak clearly, make sound decisions, and respond to questions. Music also helps to slow down language deterioration in seniors with dementia. Older people with Alzheimer's who are no longer able to communicate are found to hum their favorite tune after going through music therapy.
Music Therapy Helps to Reduce Stress Levels in Seniors. Seniors usually become stressed because of many reasons, such as personal or family member's health issues, depression, isolation, or financial challenges. Music therapy helps these elderly individuals in reducing their stress by enabling them to control or handle their emotional and physical pain. When combined with physical therapy, music therapy can help improve seniors' strength, balance, and coordination.
Music Therapy Improves the Physical and Motor Skills of Seniors. Listening to music can inspire seniors to move to the rhythm. Dancing is good for promoting coordination, helping with walking and endurance. For seniors who are not mobile, clapping and toe tapping are also great ways to get the blood flowing. Ultimately, there will be improvement in muscle strength, flexibility, heart function, pulmonary function, and weight.
Music Therapy Elicits Social Skills. Music encourages social interaction with caregivers and fellow senior residents. This type of bonding also helps to alleviate their feelings of loneliness and depression.
Music Therapy Tips for Seniors
Everybody loves music. Some sing, others play instruments, and there are those who are happy to just listen to music and move to the beat. Here are some tips to help your senior loved one or patient rekindle their passion for music and begin benefitting from it:
If your senior used to play an instrument, encourage them to start playing again. Get their instrument from storage and clean it. Have it fixed if needed. If their instrument is no longer with them, try to get an affordable replacement. Show them photos of them performing, or play music that they used to play so they could get motivated to play along.
If you know how to play an instrument as well, play along with your elderly loved one. If you can sing, sing as they play their instrument. Aside from enriching your senior's health and well-being, this exercise is also a good way to bond with them.
If your senior loved one loves music but does not sing or play an instrument, that's alright. You can sing or dance to their favorite music instead. Ask them what their favorite songs or repertoire are and download their favorite artists' songs. You'll be amazed at how much happiness and joy music can bring to their lives.