Over 50 and Still Running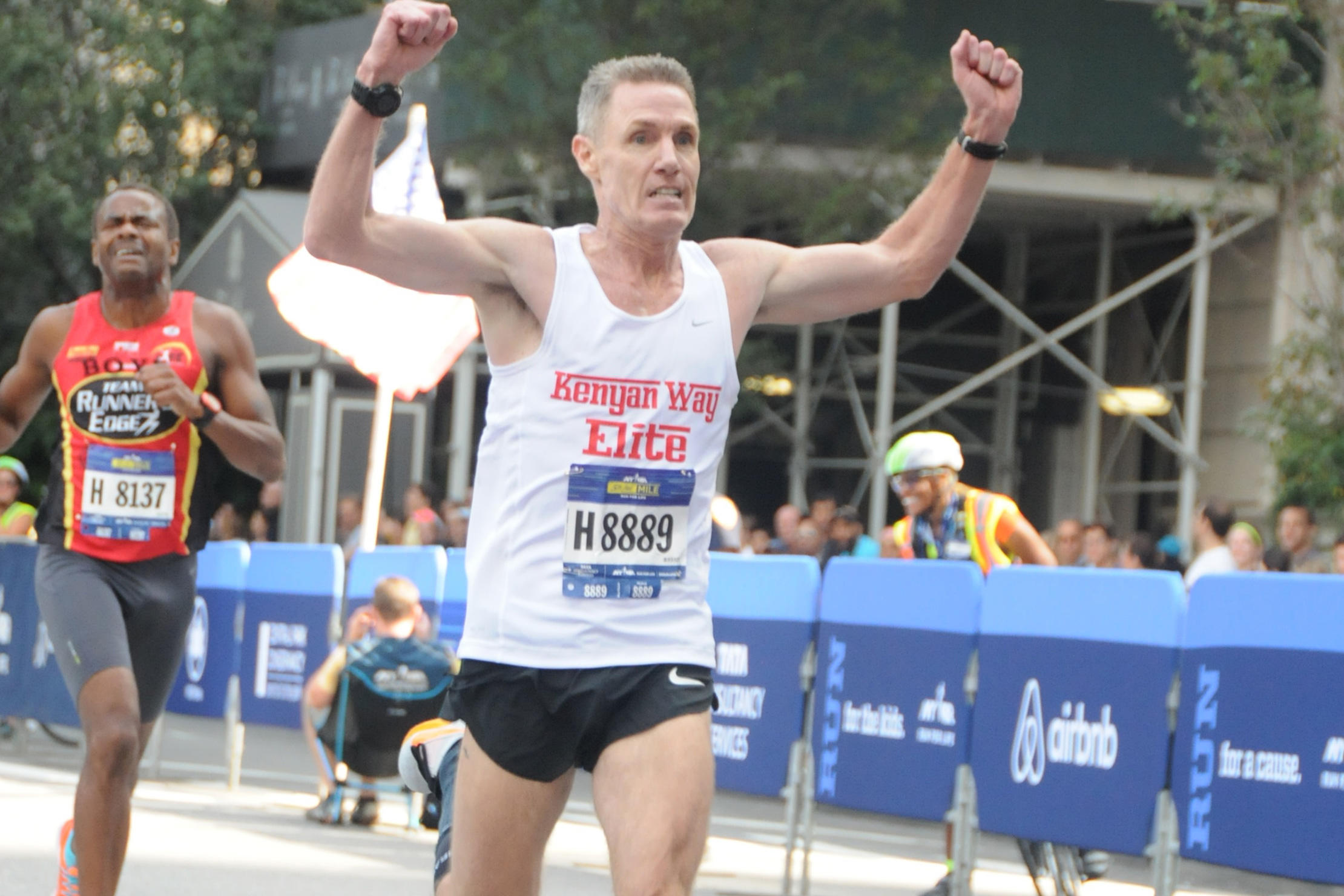 Photo Credit: Runner's World
Exercise is key to aging healthily. As one gets older, it becomes more important to maintain a regular fitness routine, and running is an excellent form of exercise that helps to slow down aging. If you have been running earlier on in your life, being 50 or older is no reason to stop. Take it from Sean Wade…
Sean Wade is a long distance runner from New Zealand, who recently turned 50. Sean ran in the 1996 Olympic marathon in Atlanta, competing for his native New Zealand and finishing 83rd place.
As a young competitor, Sean says, "I ran because I was good at it and didn't want to waste my talent." Now, Sean says he enjoys running more each year as a lifestyle and delights "on the feeling of being in great shape."
If you think that age slows you down, Sean's recent record will make you change your mind. Since turning 50, he has raced the fastest times ever for the 50-plus age group at five track distances, where he competed against college and open runners who were about half his age.
Setting a Goal
"My mentality is to kill my track workouts," said Sean, who runs an average of 60 miles every week. He decided to drop down to middle distances because he feels healthier when he is running shorter distances at a faster pace.
After his winter race in January where he ran 16 x 200 meters in 31 to 32 seconds with 30 seconds recovery between sprints, Sean, now based in Houston, Texas, is working with his 22-year-old training partner towards an aggressive speed, taking every 50–54 world outdoor record—from 800 to 10,000 meters.
Balance is Key
How important is preparation? Sean says, "I spend more time getting treatments than I do running," – that's how important preparation for training is.
In addition to Sean's speed-driven program, he makes sure that he is in good shape prior to training by including pool workouts in his routine. He also gets chiropractic work twice a week as well as regular massages. Sean also makes sure that he does not over train, limiting his running at less than an hour.
Knowing Your Limits
Even though Sean looks as young as most of his competitors, he is aware that his 50-year-old body needs to make the necessary changes and adjustments so he is guaranteed to perform well in his races. For one, he wears flats instead of spikes when he races. He also limits his interval work to no more than a total of three miles. And the day after his race, Sean would run in a pool instead of on land.
Keep Running
Needless to say, it is essential for older people to exercise regularly, and running is an excellent physical activity that can help improve one's muscle strength, coordination, and bone density – physical attributes that help prevent the risk of falling and fracturing the bones, which increases one's ability to live independently.
There are a lot of reasons to keep running, and one of which is entering a race! Knowing that there is an upcoming race, whether short or long, can help keep you going. So, if you find that your energy or motivation is waning, it would be good to look for a local race that supports a good cause and enter. If competing does not motivate you, you may want to volunteer at one of your local road races. This is a great way to give back to the community and watching a race will definitely get you motivated.
So, are you motivated to start running again? Hopefully, your answer is a resounding "yes"! As with any sports activity, it is always advisable to consult your doctor before you get started, especially if you have been inactive for some time. After your doctor gives you the go signal, make sure to get yourself a good pair of running shoes to keep your feet comfortable and injury-free, a lot of sunscreen, and a few friends to run with you!