Preparing for a Senior's Doctor Appointment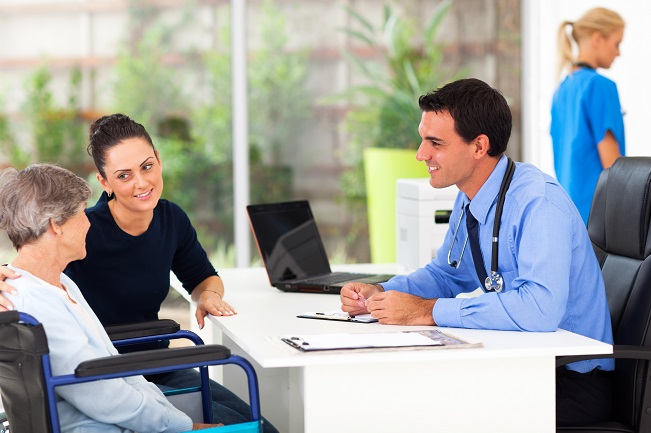 Going to a senior's doctor appointment can often be a grueling process that requires a great amount of waiting for an in-and-out session with the doctor. These appointments are usually brief and it can be overwhelming to enumerate all the pertinent information you need to tell your doctor and to absorb everything that the doctor tells you. To make the most out of a usual 15 to 30 minute doctor's appointment, it is important that senior citizens come prepared for their checkup. Here are some tips to help you prepare for your doctor's appointments and optimize the time that you have during your checkup.
Before Your Doctor's Appointment
Check with your insurance. Call or go online to check if where you will be making your appointment accepts your insurance. You will be able to verify this information in a directory of in-network providers on your insurance's website. After checking with your insurance provider, confirm with the front office staff when you call to make your appointment that their office takes your insurance.
Provide some details about your concern.  When you call to make an appointment, whether it be by phone or online, mention important details about your concern so that a proper length of time can be scheduled for you. As office visits usually last only 15 to 30 minutes, let your doctor's office know if you have numerous major concerns and request for an extended visit.
Bring medical records. If this is your first consultation in this particular clinic or physician, be ready to provide information about diseases that run in your family, your past and current health problems, and treatments you had. You may want to write these all down so you won't forget anything. It will also be helpful to bring past medical records, test results, as well as your immunization records.
Write down your concerns. Write a list of questions or concerns to better help the doctor determine and address your major health needs. When creating your list, be realistic and prioritize so you are sure to cover the most pressing concerns during a brief checkup. Be specific about the symptoms, indicating exactly where you feel any pain, if it is sharp or dull, and how long have you been experiencing the symptoms.
List down all the medications you are taking. Enumerate all the medicines you are taking, including the dosage of each and the frequency of prescription and over-the-counter drugs. If you are taking herbs, supplements, or vitamins, list these as well. If you are allergic to any medicine, also indicate this in your list.
Keep a running list of questions. It would be helpful to keep a running list of questions that you need to ask the doctor at your next appointment. You can store this list on your primary caregiver's phone or on a piece of paper kept in a prominent place at home so that it's easy for you and the family to add onto this list from time to time.
Plan your itinerary ahead of your visit. Older adults who have decreased mobility and other health issues may need certain provisions for their transportation. If you will be needing a walker, wheelchair, oxygen tank, or other equipment, make sure this is arranged. It is also ideal to wear comfortable clothing that is easy to remove in case you will need to undergo examination.
Ask someone to accompany you. There might be a lot of information presented to you at a doctor's visit, so ask a family member, relative, or a friend to go with you to your appointment. They will be a great help in writing things down for your, sharing medical information, and talking with the health care staff.
During Your Doctor's Appointment
Be on time. Generally, patients believe that the right time to show up for their doctor's appointment is the time that's stamped on their reminder card. However, the correct time to arrive at the doctor's office is about 15 to 20 minutes before their scheduled time. For patients who are seeing their doctor for the first time, they might want to arrive a little earlier to give some time allowance for extensive paperwork process.
Refer to the lists you prepared. To make sure that you don't miss on any important information, use the lists you prepared and share your symptoms, pertinent health history, and the medications that you are currently taking. You might also mention your emotional health, as this also influences your physical health.
Take down notes. It would be helpful for you or your companion to take notes during the checkup, especially for instructions on medication and therapy regimens which usually involve several steps. Writing down specific details will help avoid missing any important instruction and confusion.
Repeat what the doctor said. To be sure that you understand everything your doctor said, repeat his instructions and ask for any clarifications if needed.
Before You Leave the Doctor's Clinic
Ask for warning signs. Ask your doctor if you need to watch for specific warning signs for your particular condition. Also ask when it is considered critical and necessary for you to call in.
Ask how to contact the doctor during emergency. Ask your doctor how you can best reach them if you have immediate questions or concerns. Would this be via text, call, or email? Also ask what hours are best and how soon you can expect a response.
Confirm next appointment. Ask when you need to return for your next visit and clarify the next steps if there are any. Schedule a follow-up appointment.