A Better, Happier Retirement Home for Seniors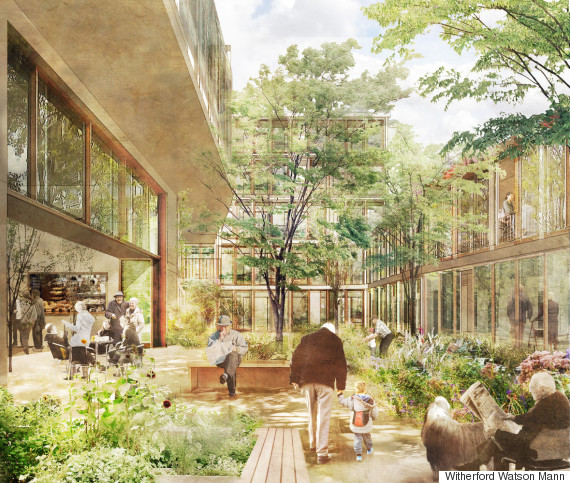 Photo credit: Witherford Watson Mann
One architectural firm, Witherford Watson Mann – a team of architects in the United Kingdom who were behind the redesign of London's Olympic Park and the award-winning Astley Castle, thought of addressing the issue of isolation among the elderly by building a senior senior community right at the heart of the city, so their home is located on a busy street where they will have regular interaction with neighbors, school children, and other groups.
This retirement home will be built in Bermondsey, a district in south London, and a part of the London Borough of Southwark. The current building on the site used to be a care home. This will be demolished and replaced with a Victorian-inspired architecture with purple-brown bricks and timber-framed windows. There will be connecting walkways and communal areas which will be "highly visible" from the road, and there will also be a cookery school instead of a kitchen, to encourage interaction among residents.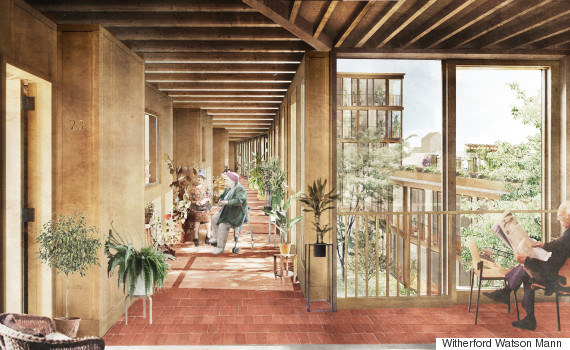 An Innovative Approach in Retirement Home 
The architectural design of the senior home will replicate the age-old British concept of the 'almshouse' but with some improvements to connect the elderly residents to the community instead of isolate them in what was traditionally a retreat. Almshouses were first created in Britain during the Middle Ages, usually funded by the church and were intended to be homes for elderly poor residents.
The senior community is being built for United St Saviour's Charity, a 500-year old charity that finances community projects and runs two traditional-style almshouses. Once completed in 2018, this establishment will be home to 90 seniors over 70. There will be 51 one-bed apartments and six two-bed apartments, a private residents' lounge, a craft room, a bathing room, hairdressing salon, and meeting spaces with 24/7 health support.
Old Concept, New Structure
Stephen Witherford, a director at Witherford Watson Mann, provides a glimpse into the traditional almshouse. "When you think of a traditional almshouse, they tended to be a sort of u-shape, set back from the road, with a fence across the front and a garden. And somewhere in the centre, at the back further away from the road would be – depending on who funded it – either be a chapel or a small meeting hall for the residents if it was a guild. You'd sort of characterize them as retreats, in that they are set back at a distance from the street."
Their new version of the almshouse aims to create greater involvement among the seniors and other members of the community. Unlike the traditional almshouse, the senior community will see the 'ends' of the u-shaped building joined by a sociable walkway. The senior apartments will be built around a garden courtyard so the residents can spend time together. "The walkway is quite generous in its width, with glass and timber walkways, so they can have a chair outside and sit next to the garden court, with a friend," said Witherford.
The Feeling of Isolation Among Canadian Seniors
Based on a report by the National Seniors Council in Canada, 44% of seniors living in retirement residences have either been diagnosed with depression or are showing symptoms of depression without diagnosis. Depression in seniors can sometimes be fatal, leading to suicide, and men who are above the age of 80 are reported to have the highest suicide rate.
In an attempt to ensure the mental and emotional well-being of seniors, retirement homes apply different ways to encourage engagement and promote happiness among senior residents, such as holding art therapy sessions, inviting preschoolers in senior homes, and bringing in animals in the retirement community, such as horses, to make the elderly members of their community enjoy the company of these very lovable animals.
Being Part of the Community Once Again
There will be a glass-fronted 'community lounge' which may be used by community groups, so that the elderly residents can mingle with school children and locals. Witherford said, "The key issue is to recognise the immense importance of older people to high streets and urban centres in terms of their ability to engage in existing social networks and contribute skills, knowledge and kindness across generations, particularly to young people. This is mutually beneficial and helps create a sense of purpose, combating loneliness and a sense of low self-worth."
Witherford added that care workers at other senior homes, which have been designed to be more communal, have seen improvements in the health of the residents. "Whatever state of health they're in, they all get a bit better, straight away. Bringing them together into a social relationship tends to immediately have a positive effect on their wellbeing."
The concept of building a senior home where they can continue to live actively not only with fellow seniors but also among the different members of the community seems to be a very good idea – something that other institutions might want to do for their future establishments.