Senior Couple Reuniting After 70 Years Prove That First Love Never Dies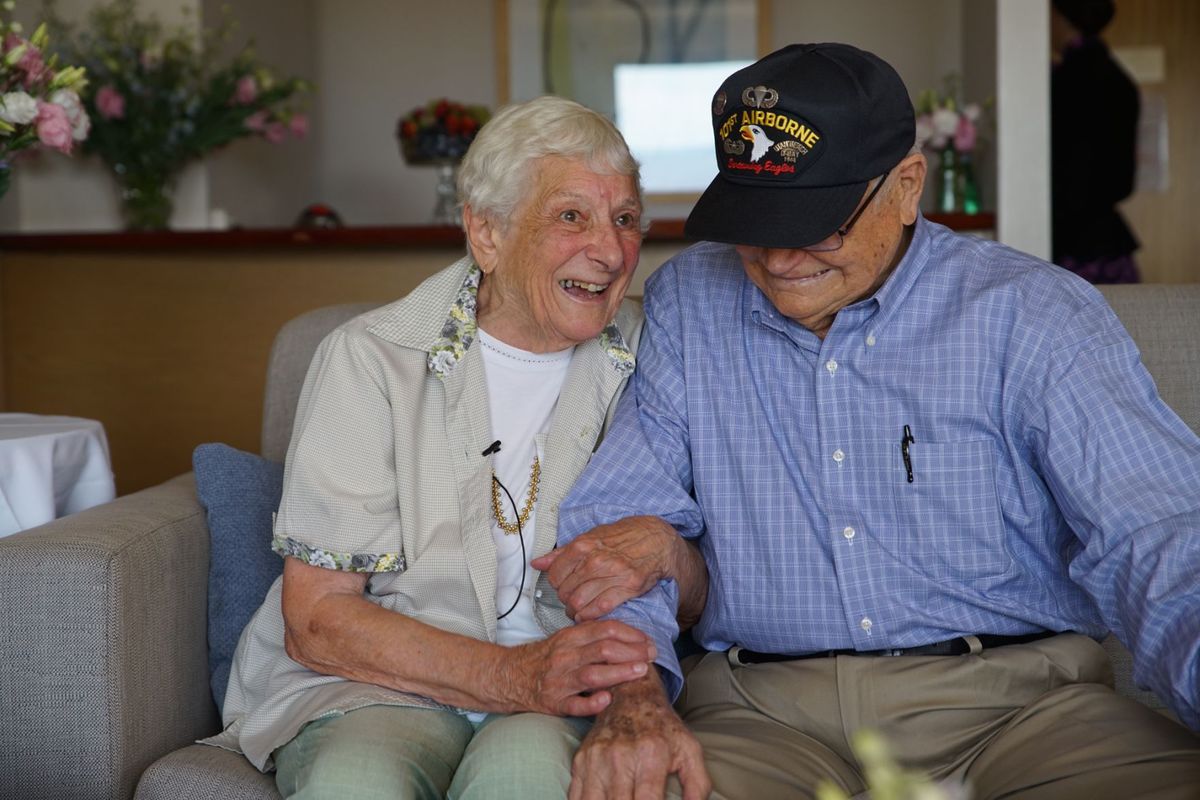 If you're not a hopeless romantic, this love story might turn you into one. This senior couple, who have been apart for over 70 years, have recently reunited and are obviously still very much in love with each other – proof that "first love never dies".
Norwood Thomas, now 93 years old, was a paratrooper from Virginia when he met Joyce Morris, now 88, along the banks of the River Thames in 1944. He was then 21 years old and she was just 17. Their short-lived romance in England was interrupted by the war as Norwood was dispatched to fight in the Battle of Normandy with the 101st Airborne Division.
After the war, Norwood wrote to Joyce from the United States, asking her to join him and "make my house a home". Joyce misunderstood his invitation and thought that he was already married and was planning to leave his wife for her, so she refused his offer and they both went their separate ways.
Both eventually got married and had children of their own. Joyce moved with her husband to Adelaide in Australia and the couple got divorced after 30 years. Norwood, on the other hand, became a widower more than a decade ago.
Last year, Joyce asked her son to try to find Norwood on the internet. Luckily, they were able to reconnect with Norwood after her son discovered a story about him going skydiving on his 88th birthday. They have since then started communicating via Skype.
Norwood recounts, "She was reading a book about some paratrooper and told her son that that reminded her of someone — who was me. He (Joyce' son) looked me up on the internet and found out I was living in Virginia Beach, Virginia. He contacted the paper there. They gave this to a reporter there who had previous contact with me. He called me and asked me, 'did I have a girlfriend named Joyce?' This rang a bell — a big bell. It was a great surprise to find out she was still alive and active — and interested in seeing me again. I don't think I'm a whole lot to see. It was the most wonderful thing that could have happened to me."
The Virginian Pilot was present when Norwood and Joyce first saw each other again as they spoke on Skype. Norwood was a bit nervous, drinking a glass of whiskey an hour before their scheduled Skype call. It took them four tries before they finally got connected. Joyce was squinting at the screen as she called out to Norwood, "Tommy?" No one has ever called Norwood by that name since 1945 when he said goodbye to her.
During their Skype conversation, Norwood told Joyce, "I tell you what. If you had come to the States when I asked, we would have been together for 70 years." He told The Virginian Pilot that, "Joyce was special; the one that got away. But after the war, my orders to go home came so quick there was no real chance to even say goodbye."
The two never thought that they would ever have the chance to see each other in person. But the story of their Skype reunion last November 6, 2015 went public in the Virginia Pilot, and readers started sending donations to fund a reunion for them. An online crowdfunding campaign drew more than 300 people to send their donations, bringing the total to more than $7,000. Air New Zealand offered free first-class flights for Norwood and his son, Steve. Earlier this year, Norwood left Virginia to visit Joyce in Adelaide, just in time for Valentine's Day. He and his son arrived February 9th stayed there for two weeks.
"To find somebody who loves you and you love them, in the latter years of your life, it would rather be special, wouldn't it?" Norwood said, "This is about the most wonderful thing that could have happened to me."
Destiny. True love. Forever. I bet you are smiling as you've been reading their story. I was the entire time I was writing it! Their love story is certainly one for the books.