Spring Cleaning Tips for Seniors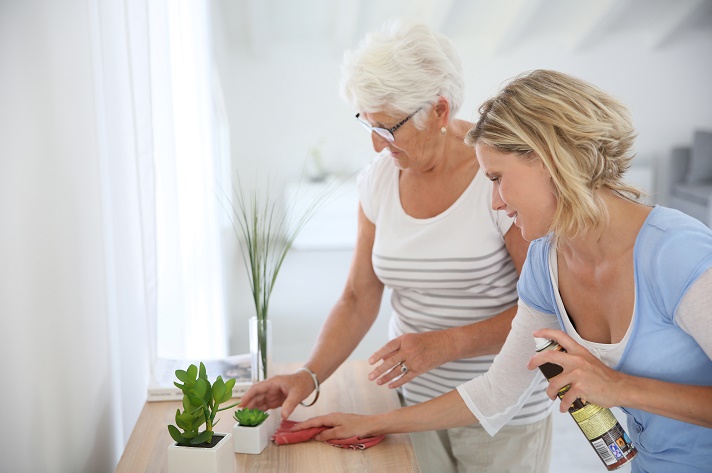 After a long winter, spring cleaning is a great time to de-clutter one's home. For seniors, this is also the perfect to organize everyday items so that it is easier access these and also to ensure that their home is arranged in a way that promotes safety and helps to prevent accidents and falls.
Here are some tips to help seniors effectively and safely execute their spring cleaning at home:
Plan Before Cleaning
It is best to set a date for spring cleaning. Create a list of what needs to be done. Set aside ample time to carry out this task so you don't feel pressured to complete it too soon. Prior to your set spring cleaning day, make sure to get all the supplies you need.
Invite Family and Friends to Help Out
While some people may dread spring cleaning, it doesn't necessarily have to be so stressful and tiring. One way to make this activity a little less tiresome is by asking friends, family, or even neighbors to help out with spring cleaning your home.
Play Your Favorite Music
What's your favorite playlist from your younger years? It may be fun to play these while spring cleaning. Even if you don't have a cassette tape of CD of your favorite songs, you can easily listen to them on online streaming services or apps like iTunes or Spotify. Not techie? No problem! Ask help from younger members of the family.
Don't Move Heavy Objects or Furniture by Yourself
Seniors, especially those with reduced strength or mobility, may find it more challenging to clean the house. There will be instances when certain objects or furniture need to be lifted or moved to clean the surface underneath them. Never try to do this on your own. Ask the help of a family member or friend who is physically capable to do this instead. Also, never stand on a chair or ladder to clean walls or ceilings. As much as possible, make use of cordless tools and lightweight equipment. There are a lot of new and highly efficient technology tools you can buy which are specifically designed to make cleaning the house much easier.
Declutter
Having too much stuff at home may increase the risks of trips and falls. Avoid these accidents by removing any unnecessary item and furniture that may be blocking your regular walking path and keep them in storage. A clear walkway in every room of the house is necessary to maintain safety inside the house.
Organize Important Documents
Now is the best time to file important documents regarding financial, health, and other legal matters. Properly label these and place them in an accessible place at home. Having important documents organized and accessible would be very helpful in emergency cases.
Clean and Organize the Medicine Cabinet
Check your medicine cabinet and throw away expired medicines. If there had been changes in your medication over the past year, get rid of those that you are no longer taking to avoid confusion. Make sure that all your medications are properly labeled and stored in their respective containers. Medicines need to be stored in a cool, dark, and dry place, so don't place them in the bathroom. It is best to store these in an airtight plastic container on a shelf.
Clean out your pantry and refrigerator.
Avoid getting sick from expired food by checking the expiration dates on cans and jars. Clear the refrigerator of stale food. Keep appliances that are not being used on a regular basis inside cabinets.
Get Rid of Old Mail, Newspapers, and Magazines
Don't let old mail, newspapers, and magazines pile up as these could also be a tripping hazard. Best these up and take them to your local recycling facility. Also, take the time to designate a place for newspapers and mail to go as they come in so they don't end up piled on the floor, creating a tripping hazard.
Donate Items You No Longer Use
Sort out your belongings and set aside all items that you no longer use. You can give these to family and friends who may have a need for them or you can donate them to a local charity or church.
Check Mats, Rugs, and Hand Rails
To avoid falls, check all rugs and mats. Making sure that these are secured to the floor with non-slip backing. Also check the handrails and ensure that they are fastened tightly to the wall.
Check Smoke Alarms and Fire Extinguishers
Check all the smoke detectors are working and replace batteries if needed. Also check the date on the fire extinguishers and replace these if they are more than 12 years old.
Restock Your Emergency Kit
It is a good practice to regularly assess your emergency kit and restock it during spring and winter. Important items to include in an emergency kit are: current medication list, allergy and digestive medications, protein bars, antibiotic ointment, alcohol, cotton balls, medical gauze dressings and pads, Band-Aids, thermometer, a flashlight and spare batteries, tape, scissors, and names and phone numbers of family or friends to contact in case of an emergency.
Keeping these tips in mind will help ensure that your upcoming spring cleaning runs smoothly and safely. Regular spring cleaning for seniors leads to a cleaner, safer home.