The Connection Between Music and Memory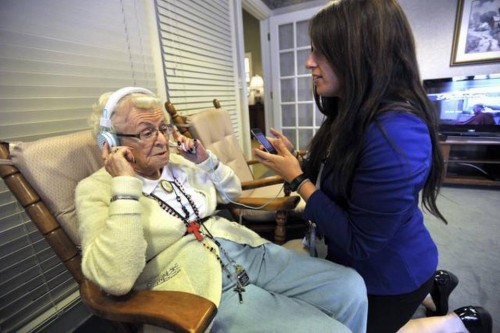 Photo Credit: Centre Daily Times | www.centredaily.com
Photo Credit: Centre Daily Times | www.centredaily.com
Back in 2010, a nonprofit organization called Music & Memory was formed to train elder care professionals on how digital music technology can be used to treat seniors who suffer from cognitive ailments, such as dementia or Alzheimer's disease. According to them, music is intricately connected with our long term memory, and listening to familiar tunes and lyrics can help calm chaotic brain activity and trigger long dormant memories or related experiences.
According to the extensive neuroscience research conducted by New York-based Music & Memory, the brain of human beings is hard-wired to associate music with long-term memory. Alex Sniderman, program administrator at Memory & Music, says that music generally affects people the most between the ages of 15 and 25, and listening to these old tunes during one's golden years "gives them a window into their old life and their old memories."
Meet Mary Garcia
Mary Garcia is a resident at Juniper Village Wellspring, where the Music & Memory program is being offered to seniors. The facility has five sets of iPods and headphones which they rotate among their 34 residents. Every senior resident has a personalized playlist which the staff creates from individual questionnaires, family members' inputs, and the caretakers' personal knowledge of their charges.
As Mary sits in her rocking chair and listens to her playlist, both of her hands are held by Kaitlin Hoover, connections director at Juniper Village Wellspring. Mary would sing along to a Spanish melody, something that reminds her of her late husband. She would be seen sighing as tears fill up her eyes, but this activity helps her to be anchored to the past so she can find clarity in her present.
Music plays a major part in Mary's life. She used to work as a school teacher and administrator and after she retired, she and her late husband stayed in a Florida retirement village, where they both joined dance classes and singing groups. Earlier in her life, Mary taught her niece, Karen Wertz, how to play the piano. Karen often visits her aunt at Juniper Village, and she has witnessed the positive benefits that music brings to Mary. "It just brightens her up," Karen shares.
Below is a short clip of "Alive Inside", a documentary film about Music & Memory and how it touches the lives of senior residents. The film won the Audience Award at the 2014 Sundance Film Festival.

Karen Martindale Shares Her Observations at Healthwin
Karen Martindale is a volunteer coordinator and head of the Music & Memory program at Healthwin, a South Bend not-for-profit organization that provides skilled short term and long term care for 127 elderly residents. Supported by a grant from the St. Joseph County Community Foundation's Milton Fund, Healthwin was able to undergo certification training and implement the Music & Memory program in their facility.
"We started watching the reactions of the residents when they heard their music," Karen said. "You could take an agitated person, and it would calm them down almost immediately. One gentleman in particular named Tim was just sitting there with no reaction and no emotion going on, and we put on some music and he started humming. We put on some Elvis music and he started moving his hands and arms. And when we put on Jerry Lewis he started pretending to play the keyboard to the music."
Beyond bringing joy to the residents, Music & Memory reconnects them not only with their past but with their family and loved ones. "(Their music) brings back all those special songs and memories. Their wedding songs are one of the biggest things you'll put on, and then (the residents) will start talking about their wedding. Songs they sang to their kids will sometimes be on the playlist, and when they listen to it, they'll start talking about their children."
Music is indeed one of the wonderful gifts we have in this life, and it is something that we need to give our elderly loved ones. Aside from the music sessions provided in their senior home, why not give them their own iPod, tablet, CD player, or stereo which they can turn on whenever they feel the need to reminisce or simply listen to some lively tunes to brighten up their mood? They used to sing lullabies to us when we were younger, now is our time to sing them lullabies through their favorite music.