The Value of Staying Connected with Senior Loved Ones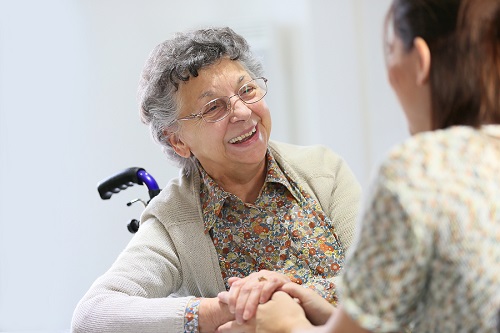 Most of us, if not all, live very busy lives. Work can be very demanding, making it extremely challenging to juggle our commitments at work and with our family. And sadly, it seems that visiting an elderly mother, father, grandparent, or friend is at the bottom of our priority list. When asked why we have not gone to visit, our usually responses are "I'm just too busy" or "They live too far".
Seniors, even the ones living in retirement homes, rely on their family members for help and support. Some may need help with performing their daily routine activities because of a chronic illness, while some may need financial support for their medical treatments and medications.
Another form of support seniors need is emotional support – having someone to talk to whenever they feel lonely or something is painful, someone to reassure them that they are not alone in this world and that they are loved and cared for. And while seniors may receive some emotional support from fellow residents in senior communities and their caregivers, nothing can equal the emotional comfort from family.
Frequent Contact with Family Alleviates Depression
In a study conducted by the WRVS, one of the largest volunteer organizations in the UK, there is emphasis given to seniors' contact with their family, stating that "Contact with family becomes especially important when an individual lives alone or is in advanced years and possibly in poor health since isolation can create the conditions for problems with older people's physical and mental health (WRVS, 2012b)."
The study further adds that limited contact to family may lead to loss of intimacy, which aggravates their feelings of loneliness, isolation, and depression – emotions that are not uncommon among the elderly, who have lost a lot of their loved ones and are no longer living with their family.
As people get older, it is natural to experience age-related losses and many older adults experience loneliness as a result of living alone or having no close family ties. This feeling of loneliness is made worse by a senior's physical challenges and frail health. Loneliness may eventually evolve into feeling isolated and demoralized.
In the same study mentioned earlier, it is found that the feeling of loneliness gets worse as one gets much older, with only 17% of seniors between the age of 75 to 79 years old saying that they feel lonely but then this number shoots up to 63% for seniors who are 80 years old and above.
Their Happiness Relies on You
Based on a report in the Journal of the American Geriatrics Society, seniors who are over 70 years old have greater need to see their families regularly in order to feel happy. The report's lead author, Dr. Alan Teo, says, "Research has long supported the idea that strong social bonds strengthen people's mental health. But we found all forms of socialization aren't equal. Phone calls and digital communication do not have the same power as face-to-face social interactions in helping to stave off depression."
Another research conducted by scientists from the University of Michigan studied 11,000 adults 50 years old and above and observed how often these seniors were contacted by their family members in person, by phone, email, and social media. After two years, the team analyzed how the frequency of contact of contact affected the seniors and found that those who were visited three times a week had a 6.5% chance of developing depression, while those who saw their family and friends just once every few months had almost double the risk at 11.5%.
When You Can't Visit, There's Skype
Thanks to technology, it is now possible for family and friends to have face-to-face interactions with senior loved ones without having to travel so many miles to go to their retirement residence. With the development of the internet, mobile gadgets like smartphones and tablets, and apps like Skype, it is now so much easier and faster to stay connected despite physical distance and hectic schedules.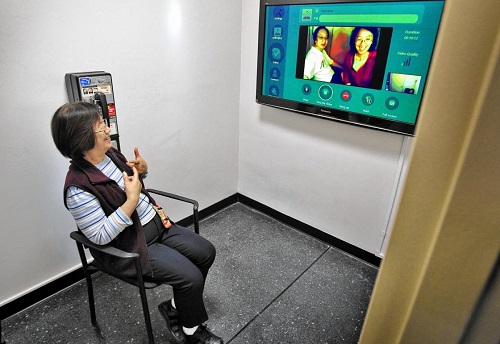 The photo above shows Senior Gloria Fang talking to her daughter, Christina Lee, and son-in-law, Stephen Lo, in Hong Kong using Skype. Senator Fang is residing in the Martin Lande House, an independent living residence for seniors in Flushing, New York.
There are several other apps available that allows free voice and video calls, but Skype is relatively easy to use and is widely used worldwide. If your senior is living in a retirement community that does not offer this particular amenity, one thing you can do is get them a mobile device, such as a smartphone, tablet, or laptop, and install Skype on this gadget.
Make it easy for them to access the Skype app and teach them how to make an outgoing call and to answer an incoming voice or video chat. If they find it difficult to remember the instructions, print out a guide for them and post it near their bed for easy access. It is also a good idea to talk to the facility's staff or your senior's caregiver and ask them to assist your senior with their Skype.
You can set a regular schedule of when they can expect your call (e.g., everyday at 4 in the afternoon, Saturdays and Sundays at 9am) so your senior knows when to expect your calls and they can get prepared for these. In case you need help installing Skype on your device, here's a quick video to walk you through the steps:
While we would like to urge you to visit your senior loved ones more frequently, this decision will be entirely up to you. At this point, it will be good to spend some time assessing your work and personal activities, and see how you can modify your current schedule so you are able to perform your obligations at work and with your family and at the same time make time for your senior.
It may be challenging for a lot of you, but this activity will help you assess your own schedule and make it possible to visit your senior loved ones more often, from once a year to maybe once every two months for some, and from every month to every two weeks for others.