Tips for Visiting Elderly Loved Ones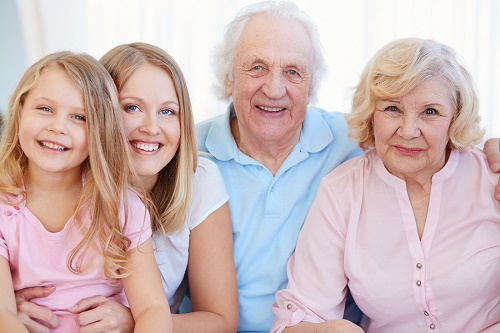 Visiting an elderly loved one or family member in a retirement community or nursing facility can sometimes be a stressful experience, especially to those whose seniors have just recently moved in. after the admission process has been completed, the next responsibility of the senior's family member is to help them adjust and feel comfortable in their new home; and this can only be done if you yourself is at ease.
Here are some helpful tips for friends and family members of seniors living in retirement homes, so your visits can be more productive and meaningful for both you and your elderly loved ones.
Consult with the Staff Prior to Your Visit
Your senior loved one might not be allowed to eat certain foods, so make sure to call the facility prior to your visit and check what they are permitted to eat or drink if you are planning to surprise them with your cooking or a takeout from their favorite restaurant.
Respect Your Senior's Privacy
Always remember to knock before you enter their room. Step out into the hall when they are being given personal care, such as when they are being changed or taken to the toilet. It is important to make your senior feel that you are not treating them as little children, especially now that they are in need of assistance with most of their activities. Seeing you respect their privacy enables them to have a sense that their dignity and pride are in intact.
Be Affectionate
Kind words, a listening ear, a gentle and loving touch – these are gestures that tell them how much you love them and care for them. Never leave the facility without doing these at least once. They may be old and forgetful, but they are the same people you once had so many fun times with. Perform affectionate acts that will make them feel that you have not forgotten how much they mean to you.
Keep Conversations Positive
Avoid arguing with your senior. While it can sometimes be tough to sustain a cheerful rapport, as your elder may be suffering from depression or might be in pain, make it a mission to stay in an uplifting disposition all throughout your visit. Be careful of what you say and always talk to your senior parents with respect.
Keep Children or Pets Well-behaved
Small children and pets are such a joy to be around with, but not if they are unruly. Make sure to brief your children of the do's and don't's of the facility before the visit and make them promise to behave while they are in the senior home. It will help to tell them a reward will be given to them if they stay behaved during the entire visit. If you are planning to bring a pet, check with the facility first if they allow this.
Keep Visits Intimate
It may seem exciting to coordinate with other family members or friends to visit your elderly loved one at a certain occasion, but this might not be such a good idea. Having a lot of people visiting at the same time might be too overwhelming for them, so try to assess or even ask them first if you can invite other people to visit with you.
Familiarize Yourself with Staff Members
It is also good to know the names of staff members who provide care for your elderly loved one. Their services are essential for your senior's well-being inside the facility and it will be best to treat them with respect and show them that you appreciate what they do for your loved ones.
Have Realistic Expectations
It is important to remember that there are other residents that need to be attended to by the staff, and not everything you need will have to be done by them. For simple matters, take care of these during your visit and refrain from complaining about minor things.
Promise to Visit Again Soon
Nothing will keep your senior smiling even after you have told them you will have to leave than a promise that you will be back soon. Despite our very busy schedules, it will be ideal to visit our senior parent or loved one at least once a month to keep them from feeling lonely and from suffering from depression.
Look forward to more enjoyable visits to the retirement home as you keep these tips in mind. Always remember, your visits will not just give memories to your elderly loved ones but to you as well, so make it a point to build loving memories.