Valentine's Day Date Ideas for Seniors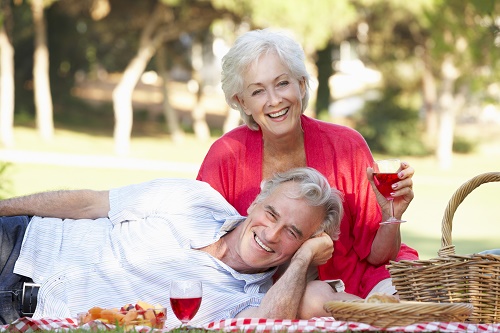 In just a few hours, it will be Valentine's Day once again! Have you made plans for your special someone already? Old age is not an excuse to miss out on Valentine's Day. Even senior couples should celebrate this day of love and in this article, we are sharing the many ways you and your partner or spouse can enjoy this very special day for sweethearts.
Go Out and Dance
If you and your significant other is into music and boogying, you might want to contact the local recreation or senior centers and ask if they are holding a Valentine's Day dance. And don't worry about being able to go with the beat, just sway along and have fun!
Go Wine Tasting
A glass of wine always signifies celebration and romance. Visit a local vineyard and attend a wine tasting. It's a great way to unwind and enjoy the different tastes of local wines in an elegant and romantic setting together.
Take a Weekday Trip
Instead of celebrating hearts day for just a single day, why not take three days off and get away during the week on Valentine's Day. You might want to revisit a particular place you used to go to when you were younger, or explore a new place together.
Play Outdoors
If you're more of a sporty couple, you can play tennis or golf, or even go hiking.  Tai chi or yoga are also great activities. If the weather permits, a day at the beach would also be great way to spend a relaxing and soothing time with nature.
Visit a Museum
Art is not only wonderful; it is also therapeutic. Go visit a museum or art exhibit and appreciate the beauty of paintings, sculptures, and other forms of art together. You will find that at the end of your visit, both of you will feel refreshed and reinvigorated, mentally, spiritually, and romantically!
Volunteer at a Social Event
Spreading the love to others is also an excellent way to celebrate Valentine's Day. Serving a good cause with your special loved one by your side is not only spiritually gratifying, it's also a perfect way to break the monotony and celebrate this day in a different way.
Have a Picnic at the Park
If the weather permits, having a picnic at the park is a great way to spend a relaxing and laid back afternoon with the one you love. Prepare him or her some sandwiches and pastries, or you can also buy from your favorite restaurant or coffee shop.
Visit the Bookstore
Are you a couple of bookworms? You might want to attend a reading at a local bookstore, and go through the shelves looking for your favorite authors and titles. By him or her the book that catches her fancy and read it together at home.
Have a Candlelight Dinner at Home
Going to a fancy restaurant for dinner on Valentine's Day is so overrated. Why not cook for your other half and create a romantic ambience at home with some flowers and candles? The gesture will be very much appreciated and you won't have to worry about what to wear!
Valentine's Day is all about showing your significant other how much you love him or her. We hope that these suggestions are helpful in giving you ideas on how to spend this day with the most important person in your life.